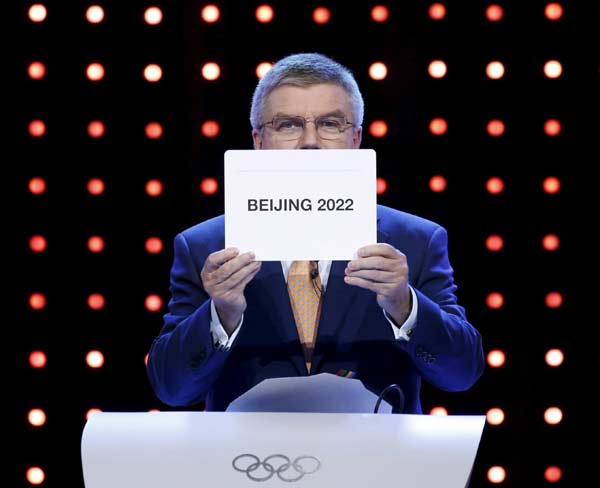 Thomas Bach President of the International Olympic Committee (IOC) announces Beijing as the city to host the the 2022 Winter Olympics during the 128th International Olympic Committee Session, in Malaysia's capital city of Kuala Lumpur, July 31, 2015. [Photo/Agencies]
Nation's capital becomes only city chosen to stage summer and winter olympics
The scenes of celebration at the Kuala Lumpur Convention Center on Friday brought back memories of 2001 when Beijing won its first Olympic bid for the 2008 Summer Games.
Hugs and high-fives, mixed with loud cheers from enraptured Beijing 2022 bid officials, who jumped from their chairs with fists pumping high, filled the announcement hall after the International Olympic Committee selected Beijing as host of the 2022 Winter Olympic and Paralympic Games.
Beijing, with co-host Zhangjiakou in neighboring Hebei province, edged out Almaty, Kazakhstan, by 44-40 in the IOC vote. Boasting a rich legacy from the facilities of the 2008 Olympics, and expertise hosting major international events, Beijing will be the only city to stage both the Summer and Winter Olympics.
"We are thrilled to become the first city over the more than 100 years of history of the Olympic Movement to present two Olympics," Wang Anshun, head of the Beijing bid committee and mayor of Beijing, said at a news conference with IOC President Thomas Bachon Friday.
"From a candidate to the host, we will work hard to fulfill all the promises we made in adherence to the Olympic Agenda 2020 by staying an athlete-centered, sustainable and economical Winter Olympics in 2022 with a lasting legacy.
"I also want to show my sincere respect to our neighbor and friend Almaty for its persistent pursuit of Olympic dreams," Wang said.
Chinese Vice-Premier Liu Yandong, who led Beijing's final presentation to IOC members early on Friday, said political stability, economic strength and a harmonious society will guarantee smooth delivery of the 2022 Olympics.