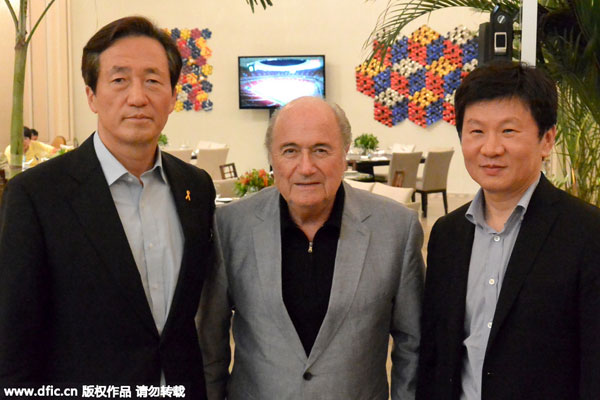 Former FIFA vice president Chung Mong-joon (left) stands with former FIFA president Sepp Blatter (middle) in Brazil in this 2014 file photo. [Photo/IC]
SEOUL - Former FIFA vice president Chung Mong-joon, one of the most influential figures in Asian soccer, said on Thursday he is entering the race to replace Sepp Blatter as president of the sport's world governing body.
Chung, the 63-year-old billionaire scion of South Korea's Hyundai industrial conglomerate, told Reuters in an interview he would make a formal announcement next month in Europe, which he called "the centre of world football".
"I am going to stand as a candidate for the FIFA presidency," he said, acknowledging he had a tough fight ahead of him. "It's not easy, but people don't want to be part of corruption. They want to be part of the solution."
"We cannot leave FIFA in this kind of disgrace."
Chung said he did not yet have the required backing of five FIFA federations that would allow him to stand, but he was confident of getting the support he needed.
"I hope to have more than five nominations," he said, adding he had received assurances of support from within CONCACAF on a recent trip to the United States. CONCACAF is the ruling body for football in North and Central America and the Caribbean.
CONTINUITY ... AND CHANGE
While UEFA chief Michel Platini, 60, appears to be the strong favourite to succeed Blatter, with four of the six FIFA confederations reportedly backing him, Chung said the Frenchman was not the right person for the job.
"He's a good person, I like him very much, but if you ask me if this is a good time for Michel to become president of FIFA, right after Sepp Blatter, I don't think this is good news for FIFA and I don't think it's good for Michel either."
While Chung was outlining his plans to become Asia's first FIFA president, the region's football chief Sheikh Salman bin Ebrahim gave a ringing endorsement to Platini, "a unique candidate who would bring stability and a smooth transition to normality for FIFA in this difficult situation."
The Asian Football Confederation (AFC) has been a staunch supporter of Blatter, and Chung said it was beyond its mandate to back a non-Asian candidate. "Asian people did not elect them to that post to recommend another continent's person for that kind of job," he said.
Chung, who headed the Korea Football Association from 1993 to 2009 - during which time South Korea co-hosted the World Cup finals with Japan - lost his seat on FIFA's executive committee in 2011 to then-Blatter ally Prince Ali bin Al Hussein of Jordan.
While there have been growing calls for an influx of fresh faces at FIFA, Chung said his departure from the governing body four years ago made him the perfect candidate.
"We need new blood at FIFA, but we also need continuity and change. The fact that I left four years ago was a kind of blessing."
"I understand FIFA very well, I also have the experience of running a national federation. Michel does not have that kind of experience, so I think I am qualified to invite change while preserving the strength of FIFA at the same time."
GO NOW, SEPP
Blatter was re-elected for a fifth term as FIFA president on May 29, but four days later he said he would lay down his mandate amid the world crisis in the body's history. He will stay on until the election on Feb. 26.
Chung said Blatter should go now, adding he feared the Swiss might try to sabotage his campaign as Chung was a vocal critic of Blatter during his 17 years as FIFA vice president.
"The most important reform for FIFA is to have a fair election, and in order to have a fair election President Blatter and General Secretary Jerome Valcke should step down immediately," Chung said.
"I'm afraid President Blatter has a kind of plan to damage my candidacy, but if he tries to do something bad to my candidacy I will try to fight that," he added.
Valcke, an often-outspoken Frenchman, has given strong hints that he will leave his job when Blatter is replaced.
In late May, federal prosecutors in New York indicted nine soccer officials, most of whom held or had held FIFA positions, and five sports media and promotions executives in schemes involving $150 million in bribes over a period of 24 years.
Prosecutors said their investigation exposed complex money laundering schemes, millions of dollars in untaxed income and tens of millions of dollars in offshore accounts held by the soccer officials. (Reporting by Peter Rutherford; Editing by Ian Geoghegan)