KUALA LUMPUR - To deliver Beijing 2022's pledge to host an athlete-centered Games, China's top winter Olympic athletes have played a key role in designing an Olympic and Paralympic Winter bid that prioritizes the athlete experience.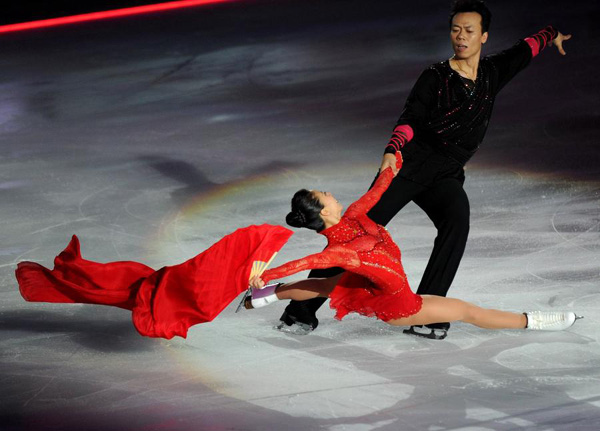 Shen Xue (L) and Zhao Hongbo. [File photo] 
As the official hosts of the immensely popular Artistry on Ice event earlier this month - which gathered together some of the best figure skaters in the world - Beijing 2022 bid ambassadors and married couple Shen Xue and Zhao Hongbo said: "The Beijing 2022 Bid does not come out of some competitive desire for our country to win more gold medals, but rather to share our love of sport so that you too will be inspired to one day pick up your own pair of figure skates and come join us out on the ice."
Shen Xue and Zhao Hongbo have more than solidified their legendary status in the annals of China's Winter Olympics pursuits due to their acquisition of a number of firsts for the country: They were the first Chinese pair team to win a medal at an ISU event and the World Figure Skating Championships; in 2002, they became the first Chinese pair to win a World Championship; at Salt Lake City 2002, they became the first Chinese pair skaters to win a medal at the Olympic Winter Games; finally, at Vancouver 2010 they once again made history by becoming the first Chinese skaters to win the gold medal at the Olympic Winter Games in any figure skating category.
When asked what was running through their heads, Zhao said "winning Olympic gold was our lifelong dream...we knew that a new era of figure skating for the Chinese had just begun."
Almost right away, the two began to work on crafting this "new era" of figure skating in China: On February 17, 2010, the two announced their definite retirement from competitive skating to focus on promoting their sport throughout China, as well as their own personal lives. Somehow the pair managed to combine both pursuits into one by getting married at the inaugural Artistry on Ice festival, consecrating their personal relationship of 18 years in front of 20,000 spectators at the literal "Wedding on Ice", all held at Beijing 2022 figure skating venue Capital Indoor Stadium.
Since then, the pair has been hard at work spreading this "new era" of figure skating culture in China. Zhao is now grooming the next generation of China's star figure skaters at his hometown Harbin's Skating Club, with students including recent 2015 ISU World Championship pairs silver medalists Sui Wenjing and Han Cong, as well as rising stars (and 2015 Four Continents pairs silver medalists) Peng Cheng and Zhang Hao and 2015 Winter Universiade pairs gold medalists Yu Xiaoyu and Jin Yang.