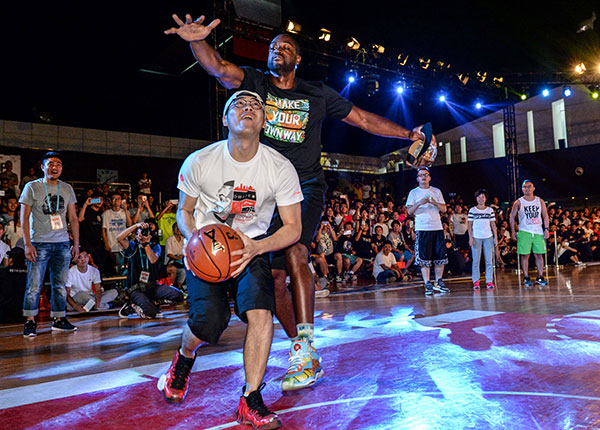 Wade plays an exhibition game at a fan-appreciation activity organized by Chinese brand Li-Ning. Photo provided to chinadaily.com.cn
NBA stars visit China on promotional tours every summer but it seems no one has ever tasted the culture as deeply as Dwyane Wade.
Invited by Chinese sports brand Li-Ning, his personal sponsor, Wade kicked off the Beijing leg of his tour on Sunday morning in a way he never expected – being served traditional Beijing snacks, Jiaoquan'er and douzhi'er, for breakfast upon his arrival at the city's tourism spot Shichahai.
Douzhi'er, fermented bean juice, is among the most traditional and controversial local drinks favored by older Beijingers for its health benefits as well as aftertaste of bean fragrance, while usually turned down by visitors for its stinky odor.
The Miami Heat's All Star guard has overcome numerous challenges to shine on court during his 12-year NBA career but this time surrendered in front of the sour drink.
After taking a smell at the bowl, he asked a fan to drink the douzhi'er for him and then took a couple of bites of Jiaoquan'er, a fried ring of dough, and the Chicago-native found the crispy snack tasted familiar.
"It was good. It was like the dookie cookies we had when we were kids," Wade said with a grin after a fan-appreciation activity on Sunday afternoon.