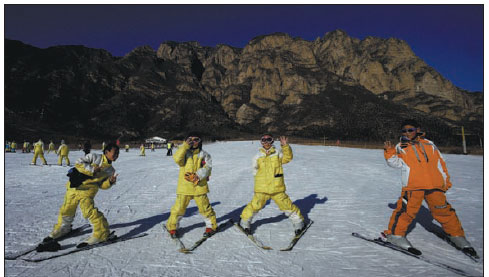 More than 100 primary students attend a skiing class in the Shijinglong skiing park at the foot of Yanshan Mountain in Yanqing county, Beijing, on Dec 24, 2014. Yanqing county is part of the three venue clusters for the 2022 Winter Olympic Games bid. Li Xin / Xinhua
The Beijing 2022 bid committee remains confident that its plan to host the Winter Olympics in three zones will benefit post-event venue use while promoting winter sports in a larger area.
Staging major international events like the Olympics requires large-scale venue clusters, which often sit idle after the Games due to the lack of consumer demand and follow-up events.
As the International Olympic Committee calls for more sustainability in hosting future Olympics, Beijing's bid plan to host the 2022 Games in three clusters - downtown Beijing, northwest Beijing's Yanqing county and co-host Zhangjiakou in neighboring Hebei province - would address the issue by distributing winter sports facilities to three large markets while sharing the economic cost.
"It may seem that allocating venues to three places would bring challenges for commuting during the Games. Instead, the three-zone arrangement will make our venues and facilities more accessible to larger groups of consumers," said Wang Hui, deputy secretary-general and spokeswoman for the Beijing 2022 Winter Olympic Games Bid Committee.
"If you host the Games in one compact venue cluster in remote areas, it's hard for enough winter sports fans to use the facilities. So the three-zone plan works well for sustainable post-Games operation of the venues because more people will have a chance to use them," she added.
Beijing is vying with Almaty, Kazakhstan, to host the 2022 Winter Olympic and Paralympic Games. IOC members will vote for the winning host at the 128th IOC Session on July 31 in Kuala Lumpur.
According to Beijing's bid plan, all the ice events, including speed skating, ice hockey and curling, will be held at five venues, including four existing ones in downtown Beijing. Only the National Speed Skating Oval will be built as an additional permanent venue for speed skating competitions.