WASHINGTON - Floyd Mayweather was stripped the World Boxing Organization welterweight world title on Monday after he failed to pay a required fee.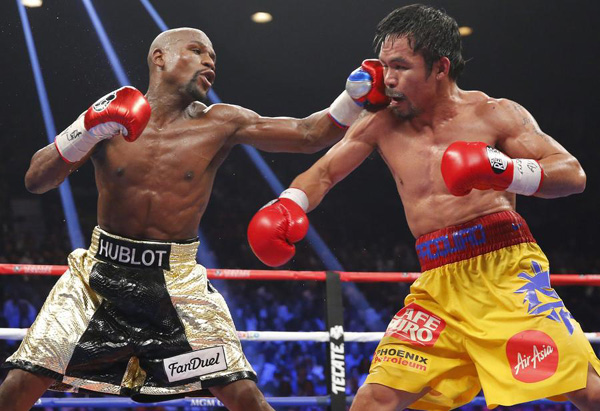 Floyd Mayweather, Jr. (L) of the US lands a left to the face of Manny Pacquiao of the Philippines in the 11th round during their welterweight WBO, WBC and WBA title fight in Las Vegas, Nevada, in this May 2, 2015 file photo.  [Photo/Agencies]
Mayweather had failed to meet the deadline last Friday for paying the 200,000 US dollars sanctioning fee required by the WBO after he won the belt from Manny Pacquiao on May 2 in Las Vegas in the richest fight of all time, earning a reported 220 million dollars in the process. In total, the much-hyped fight generated about 400 million dollars in US revenues.
"Despite affording Mr. Mayweather Jr. the courtesy of an extension to advise us of his position within the WBO Welterweight Division and to vacate the two 154-pound world titles he holds, the WBO World Championship Committee received no response from him or his legal representatives on this matter," WBO said in a statement.
"The WBO World Championship Committee is allowed no other alternative but to cease to recognize Mr. Floyd Mayweather, Jr. as the WBO Welterweight Champion of the World and vacate his title."
According to WBO rules, Mayweather should have paid a fee that is 3 percent of his purse to fight for the world title up to a maximum of 200,000 dollars.
The rules also prohibit WBO champions to hold any belts in any other weight divisions. Mayweather is currently also the WBC and WBA champion at junior middleweight (154lb), as well as at welterweight (147lb).