MONTREAL - Carli Lloyd scored one goal and set up the other as the United States beat Germany 2-0 to reach the Women's World Cup final on Tuesday.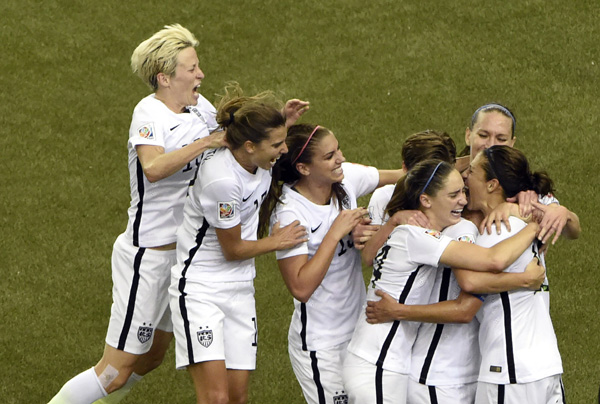 United States midfielder Carli Lloyd (10) celebrates with teammates after scoring on a penalty kick against Germany during the second half of the semifinals of the FIFA 2015 Women's World Cup at Olympic Stadium.  [Photo/Agencies]
Lloyd put the Americans ahead in the 69th minute from the spot. They were awarded the penalty kick after German defender Annike Krahn fell Alex Morgan inside the box.
The 32-year-old Lloyd, who headed in the sole goal in their win over China in the quarter-finals, delivered a superb pass for Kelley O'Hara whose shot sealed the win the U.S. side in the 84th minute.
Germany put on aforgettable performance and their finishing was incredibly poor as only one of their 15 shots was on target.
The United States will meet the winners of the other semifinal between Japan and England.