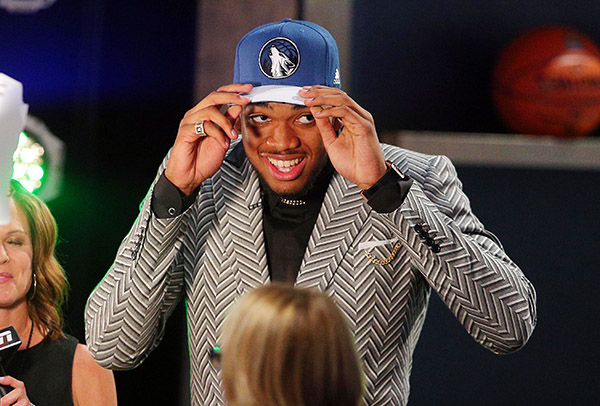 Karl-Anthony Towns walks off stage after being picked first in the 2015 NBA draft at Barclays Center in Brooklyn, New York, June 25, 2015. [Photo/Agencies & Brad Penner-USA TODAY Sports]
NEW YORK - Kentucky's versatile big man Karl-Anthony Towns was the expected first overall pick by the Minnesota Timberwolves in the 2015 NBA Draft but surprises followed at Barclays Center on Thursday.
The Los Angeles Lakers and New York Knicks, two once-proud franchises, made big bets on players with potential while two international players were among the top five choices.
Towns, 19, is considered an ideal modern NBA big man with a combination of dominant defense, low post scoring brilliance and an outside shot -- qualities craved by a Minnesota team that has not made the playoffs since 2004.
"I'm going to go in right away and just be as versatile as I can," Towns said. "That's what I want Wolves fans to know. I'm coming in with a winning attitude."
The multi-talented, 6-foot-11 (2.11m) center averaged 10.3 points and 6.7 rebounds while shooting 56.6 percent from the floor as a freshman for a University of Kentucky team that went 38-0 in the regular college season.
Then came some twists.
The Los Angeles Lakers made 6-foot-5 (1.95m) guard D'Angelo Russell from Ohio State University the second pick of the draft, defying many prognosticators who had pegged Duke center Jahlil Okafor as going second overall.
Russell averaged 19.3 points, 5.7 rebounds and 5.0 assists in steering the Ohio State Buckeyes to a 24-11 record and was thrilled to get a chance to play with Kobe Bryant.
"I want him to take me under his wing, and gain every piece of knowledge that I can gain," said Russell, a gifted offensive player with vision and a pure shooting action.
Okafor went third to the Philadelphia 76ers, despite having claimed big men Nerlens Noel and Joel Ebiid in recent drafts.
"I'm excited," said Okafor. "I'm in the NBA. That was my dream my entire life."
Two highly touted international players followed with the next two picks.
The New York Knicks claimed towering, sweet shooting forward Kristaps Porzingis of Latvia, who has played with Cajasol Seville in Spain, with the fourth pick.
The sharp-shooting, 6-foot-8 (2.03m) guard Mario Hezonja of Croatia, who also played in Spain for Barcelona, went fifth to the Orlando Magic.
Two picks later, the Denver Nuggets claimed dynamic point guard Emmanuel Mudiay, who was born in Congo, raised in Dallas and played for the Guangdong Southern Tigers in China last year.
Not all the selections stayed with the teams that called their names.
The New York Knicks netted Notre Dame guard Jerian Grant in a three-way deal, while NBA championship runner-up Cleveland used Duke guard Tyus Jones to add two players and a draft pick.
The Atlanta Hawks traded the rights to 15th overall pick Kelly Oubre to Washington for 19th pick Grant and two future second-round picks.
New York sent guard Tim Hardaway, Jr. to Atlanta for Grant.
The Cavaliers dealt the rights to 24th choice Jones to Minnesota for the rights to No. 31 Cedi Osman of Turkey, 36th pick Rakeem Christmas of Syracuse and a future second-round selection.