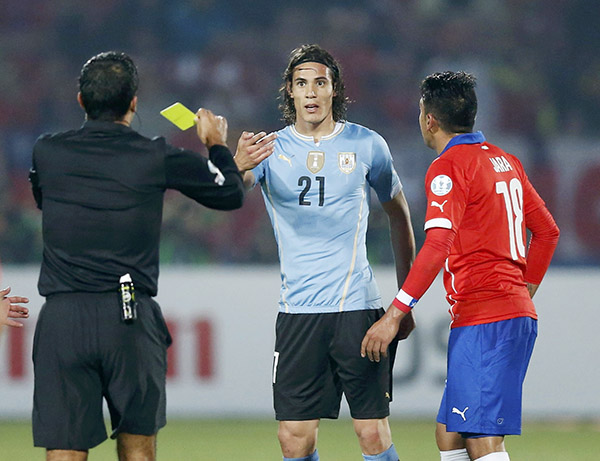 Referee Sandro Ricci shows a second yellow card to Uruguay's Edinson Cavani next to Chile's Gonzalo Jara during their quarter-finals Copa America 2015 soccer match at the National Stadium in Santiago, Chile, June 24, 2015. [Photo/Agencies]
SANTIAGO - Uruguay bowed out of the Copa America with a bitter taste in their mouths after having two men controversially sent off in their 1-0 quarter-final defeat by Chile, their coach Oscar Tabarez said.
Striker Edinson Cavani and defender Jorge Fucile were both dismissed in the second half of a bad-tempered encounter on Wednesday in Santiago.
Cavani's dismissal looked particularly harsh as he responded relatively mildly to provocation from Chile fullback Gonzala Jara.
After the dismissal of Fucile near the end of the game, the Uruguayan players lost their tempers, shoved the linesman and came close to blows with some of the Chilean players.
Tabarez joined in the protest and the game was held up for several minutes until order was restored.
"When things end in red cards for incidents that weren't even fouls it leaves a bitter taste in the mouth," Tabarez said. "I would have liked to lose in a different way."
The coach apologised for leaving his technical area to remonstrate with Brazilian referee Sandro Ricci but said the official was wrong to send off Fucile for a tackle on Alexis Sanchez.
"I said to the referee 'why have you sent off a player who didn't commit a foul?'," Tabarez said. "Fucile, it was so clear!
"And with the sending off of Cavani there is also photographic evidence that showed what happened and the provocation (from Jara).
"I submit to the TV images and photographs. That's where the truth lies."
Chile enjoyed 80 percent of possession in a one-sided match but struggled to break down a characteristically stubborn Uruguayan defence until wingback Mauricio Isla scored with less than 10 minutes remaining.
Tabarez said Cavani's dismissal 20 minutes earlier was a turning point.
"When we were down to 10 men obviously it became more difficult because our opportunities for attack were reduced," he said.
He denied Cavani's dismissal had anything to do with the player's state of mind after hearing on Tuesday that his father had been arrested in Uruguay for his role in a fatal car crash.
"I think today he (Cavani) was where he should have been," Tabarez said. "His red card had nothing to do with what happened the day before."