A deputy head of China's General Administration for Sport is being investigated for suspected "serious breaches of discipline and the law", the country's top anti-graft watchdog said on Thursday.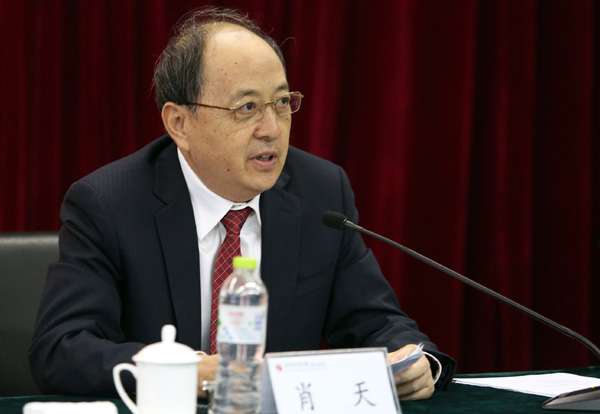 File photo of Xiao Tian.  [Photo/Xinhua]
The brief statement gave no other details about the probe into Xiao Tian, whose rank is equivalent to that of a vice-minister.
Xiao was appointed as the country's deputy sports head in August 2005. He was a former provincial fencer from East China's Anhui province before working for the sport ministry in 1981.

He began to take charge of China's winter sports in 1998 and led China to its historic Winter Olympic gold medal at the Salt Lake Olympics four years later.
Xiao was last officially seen at the special ceremony to honor China's retired star hurdler Liu Xiang at the Shanghai Diamond League May 17. He presented the hurdler the "Outstanding Contribution Award".
Xiao's wife Tian Hua, who takes charge of equestrianism sport in the governing body, was reportedly taken to prosecution to assist investigation.

The sport governing body has been under fire for violating rules involving match-fixing, talent selection and the operation of events, said the anti-graft watchdog.

As part of the country's anti-corruption campaign, the Communist Party of China's Central Commission for Discipline Inspection (CCDI) sent an inspection group from July to September last year to inspect the operation of the GASC and its affiliated event governing centers.
The inspection was another major campaign against corruption in China's sports arena after the crackdown on match-fixing and graft in soccer around 2010.
The Chinese Football Association announced in early 2013 to punish 33 individuals, including several former top soccer officials, renowned referees and ex-national players, and 12 clubs involved in game-cheating and corruption scandals after a nationwide investigation in 2010.