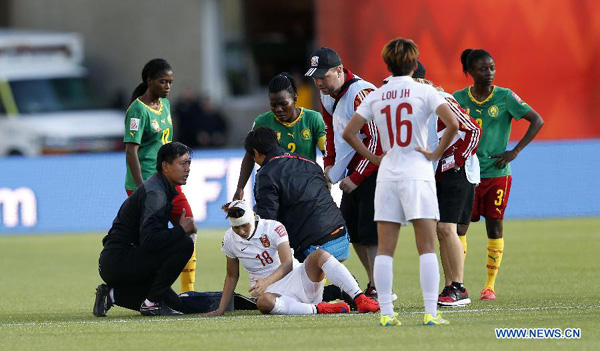 Han Peng (bottom) of China gets injured during a round of 16 match between China and Cameroon at Commonwealth Stadium in Edmonton, Canada on June 20, 2015. China won 1-0. [Photo/Xinhua]
EDMONTON, Canada - Chinese Han Peng received six stitches on her head after China beat Cameroon 1-0 in the last 16 round of the Women's World Cup on Saturday.
Han bumped her forehead with Cameroon's defender and bled in the injury time. She came back minutes later with a bandage head to complete the 94-minute match.
"I didn't realize I was bleeding, but I knew I had to continue playing because we had no more substitute option," Han said after the game.
She got the stitches at the locker room.
"To qualify in the quarterfinals - that's all I was thinking at that time. We could let Cameroon to play their game. I have to be mentally stronger than them, and more determined, to give them pressure. We did a great job," Han said.
"Now I feel very confident if we face the United States next game."
The United States will face Colombia and winners of the match will meet China in the next round.
"The US might be physically better than us, but we are a good team technically. I think it's going to be a good match-up," she added.