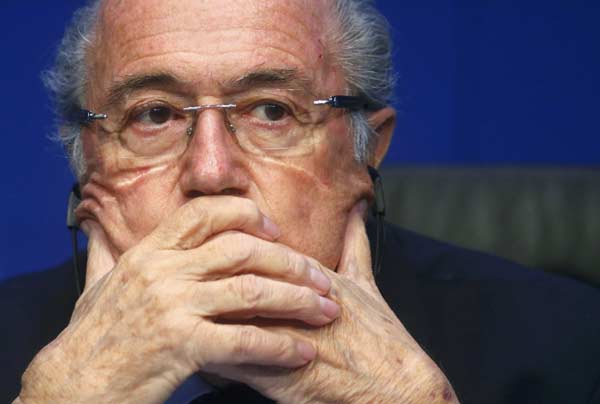 Re-elected FIFA President Sepp Blatter pauses during a news conference after an extraordinary Executive Committee meeting in Zurich, Switzerland, May 30, 2015. [Photo/Agencies]
ZURICH - FIFA President Sepp Blatter came out fighting on Saturday as he began his fifth term in charge of soccer's governing body, implying that the United States timed the announcement of a major corruption probe to try to scupper his re-election bid.
The 79-year-old Swiss comfortably won Friday's vote at a FIFA congress in Zurich, having secured the support of blocks of votes from Asia and Africa which outweighed dissenters including Europe's powerful soccer body UEFA.
He now faces the daunting task of restoring public faith in an organisation tainted by allegations of graft and deeply divided over his leadership.
In an interview late on Friday, he showed few signs of wanting to unite one of the world's most powerful sports bodies that takes in billions of dollars in revenue from television marketing rights and sponsorships.
"No one is going to take it off me that it was a simple coincidence (that) this American attack (happened) two days before the elections of FIFA," Blatter told the RTS Swiss television channel in an interview.
"Why didn't they (the police) do this in March when we had the same meeting? At that time, we had less journalists."
In a dawn swoop on a Zurich hotel on Wednesday, Swiss police arrested seven leading soccer officials, including FIFA vice-president Jeffrey Webb.
The arrests were connected to a bribery scandal being investigated by US, Swiss and other law enforcement agencies that plunged FIFA into the worst crisis in its 111-year history.
Blatter also singled out UEFA, whose president Michel Platini had called for his resignation.
"It is a hate not only by one person of UEFA but by the organisation of UEFA that has not understood that I have been president since 1998," Blatter said. "I forgive everyone but I don't forget."