Power pairing calls it quits after almost three years together
Tiger Woods and Lindsey Vonn are no longer a power couple in American sports.
Golf's biggest star and the Olympic ski champion said Sunday they were breaking up after more than two years. But in ending their relationship, both were in complete harmony in their separate announcements on social media, citing busy lives and times they will always "cherish".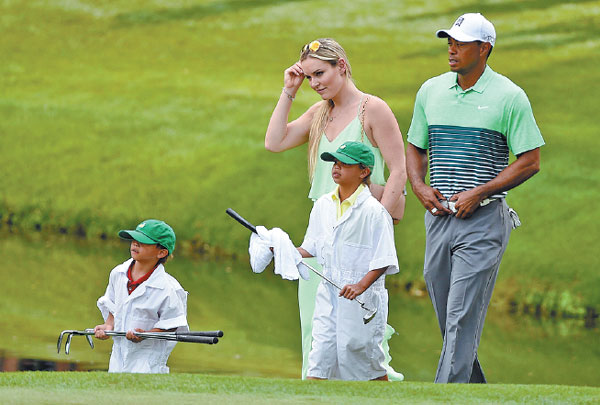 Tiger Woods walks the fairway with Lindsey Vonn and his children, Charlie Axel (center front) and Sam Alexis, during the Par-3 competition at the Augusta National Golf Club in Georgia on April 8. Timothy A. Clary / AFP
"After nearly three years together, Tiger and I have mutually decided to end our relationship," Vonn said on Sunday on her Facebook page.
"I will always cherish the memories that we've created together. Unfortunately, we both lead incredibly hectic lives that force us to spend a majority of our time apart. He and his beautiful family will always hold a special place in my heart."
Vonn, an Olympic ski champion, this year set the record for most World Cup titles.
"Lindsey and I have mutually decided to stop dating," Wood said on his website. "I have great admiration, respect and love for Lindsey and I'll always cherish our time together. She has been amazing with Sam and Charlie and my entire family. Unfortunately, we lead very hectic lives and are both competing in demanding sports. It's difficult to spend time together."
Both are divorced.
They were last seen in public at the Masters, where Vonn accompanied Woods' children - 7-year-old daughter Sam and 6-year-old son Charlie - when they caddied for him in the Par-3 tournament.
"Unfortunately, we lead very hectic lives and are both competing in demanding sports. It's difficult to spend time together," Woods, 39, said.
Woods was in Italy in January when Vonn broke the World Cup record and he was photographed with a skeleton-pattern mask that, when dropped, revealed he was missing a tooth. Woods later said a videographer bumped into him and jarred it loose.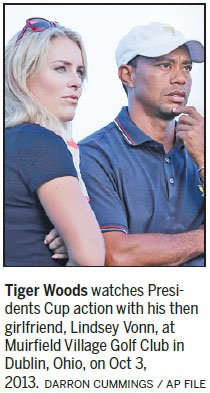 He also was in Colorado where she competed before a home crowd in February, right after Woods announced he was taking time away from golf because his game was not up to his standards. He shot an 82 at the Phoenix Open to miss the cut by 12 shots. He withdrew after 11 holes at Torrey Pines the following week with tightness in his back.
Vonn had become a regular at the majors when Woods played. She also was at the Hero World Challenge that he hosts in December in Orlando, Florida.
Rumors they were involved began during her knee injury in 2013 amid reports he had sent his plane for her. Given his demand for privacy, it was rare when Woods went public in March 2013 to announce they were dating.
It was accompanied by portraits of both on Facebook and his website. Woods said at Bay Hill that year he wanted to limit what he called the "stalkarazzi" and the "sleazy websites" that were following them.
Both have been recovering from injuries, and Vonn said recently on Late Night with Seth Myers that they have helped each other.
"He's been through a lot of injuries, and so have I," Vonn said. "It's nice to be in the gym with someone that knew what you were going through. And we kind of just pushed each other back to health."
That appearance led to an amusing exchange when Meyers asked if she had always been interested in golf. Vonn playfully squirmed in her seat before saying, "I love golf." It was pointed out that for Woods to attend a downhill event, the race would be much shorter than a round of golf.
"It's like five hours," Vonn said. "It's a long time."
Golf went from two sporting couples to none in the past 11 months. Just less than a year ago, Rory McIlroy broke off his engagement to tennis star Caroline Wozniacki. McIlroy went on to win the BMW PGA Championship that week, which is the flagship tournament in Europe.
Woods played at this year's Masters and is due to compete at the Players Championship this month in Florida.
Vonn returned from knee surgery to break the record for most World Cup ski championship wins by a woman.
Woods has been single since his 2010 divorce from former Swedish model Elin Nordegren, which occurred less than a year after the golfer became embroiled in an infidelity scandal that rocked the sports world.
More than a dozen women said they had affairs with Woods, and the golfer admitted to "transgressions".
(China Daily 05/05/2015 page19)