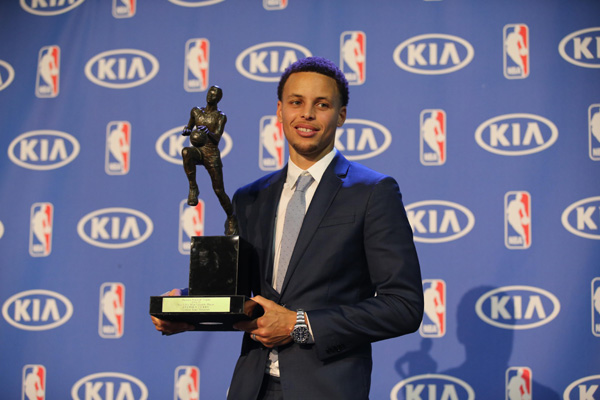 Golden State Warriors guard Stephen Curry with the 2014-2015 NBA Most Valuable Player trophy at the Oakland Convention Center May 4, 2015. [Photo/Agencies]
WASHINGTON - The NBA announced Monday that Stephen Curry from Golden State Warriors has won the 2014-15 NBA Most Valuable Player Award.
Curry, 27, averaged 23.8 points (sixth in the NBA), 7.7 assists (sixth), a career-high 2.04 steals (fourth) and 4.3 rebounds, helping the Warriors win a franchise-record 67 games. And he made 286 three-pointers, breaking his own NBA record of 272 set in 2012- 13. He shot 48.7 percent from the field and was ranked fourth in the league in three-point field goal percentage (44.3). Curry also led the NBA in free throw percentage (91.4).
The Houston Rockets' James Harden (936 points, 25 first-place votes) finished second and the Cleveland Cavaliers' LeBron James ( 552 points, five first-place votes) was ranked third. The Oklahoma City Thunder's Russell Westbrook (352 points) and the New Orleans Pelicans' Anthony Davis (203 points) were fourth and fifth.
Curry got 1,198 points in total, including 100 of 130 first- place votes.