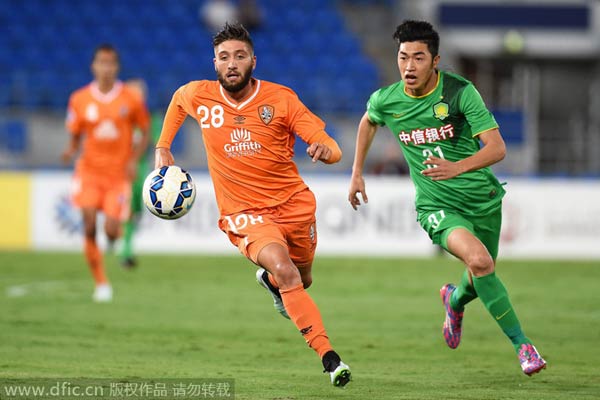 Beijing Guoan's Zhao Hejing, right, and Brisbane Roar's Brandon Borrello contest the ball during the AFC Champions League Group G tie at Cbus Super Stadium on the Gold Coast, Australia, Feb 25, 2015. [Photo/IC]
The Chinese dream of one day winning soccer's World Cup moved a step closer with a plan being passed during a meeting of the country's leading group for drafting overall reform, Xinhua reported.
Friday's meeting was presided over by Chinese President Xi Jinping, who is also leader of the central reform group.
The rejuvenation of soccer is closely tied to the dream of ultimately becoming a major sporting nation, according to a statement issued after the meeting. Reviving soccer is the expectation of the Chinese people, it added.
Soccer has long been an embarrassment to Chinese people with bad performances being coupled with corruption. The country has only once qualified for the World Cup, in 2002, when they failed to score a single goal and lost all three group matches. Bribery scandals involving players and officials were widely reported in recent years.
"China has to overcome systematic flaws which have impeded soccer's development and provide better institutional guarantees for the sport," the statement said.
Known as a soccer fan, President Xi is considered by many to be a "savior" of the sport.
In November, the Ministry of Education made soccer a compulsory part of physical education in schools and promised to set up more academies.
Clubs throughout the country are urged to become involved by restructuring the management system, according to the statement which also proposed earlier identification of talented youngsters and the integration of professional clubs, school teams and amateurs.
China will also look at how other countries established themselves on soccer's world stage.
The plan was announced a day after four Chinese teams won in the first round of group games in this season's AFC Champions League.