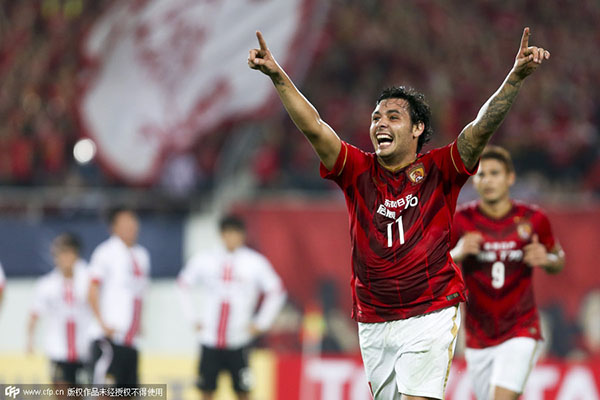 Guangzhou Evergrande's Ricardo Goulart celebrate after scoring against FC Seoul during their Asian Champions League soccer match, Feb 25, 2014. Evergrande beat FC Seoul 1-0. [Photo/CFP]
GUANGZHOU, China - Ricardo Goulart headed home in the first half as Guangzhou Evergrande edged FC Seoul 1-0 in the AFC Champions league Group H here on Wednesday.
Goulart hammered the ball into the back of net in the 31st minute, after Huang Bowen curled the corner-kick to the near post and Alan glanced his header back toward the far post.
"I am satisfied with our team, it is not easy when you are facing opponent like Seoul, the players have concentrated well on the match," said Guangzhou's coach Fabio Cannavaro.
Guangzhou's new Brazilian duo almost broke the deadlock within three minutes when Goulart's quickly-taken free kick put Alan in on goal, only to see his shot denied by goalkeeper Kim Yong-dae.
The visitors came close in the 28th minute, when Everton Santos' goalbound header was collected by Guangzhou's keeper Zeng Cheng.
Kim Yong-dae was called into action on the half hour when he dived to his right to push Elkeson's long-range shot wide, and from the corner the home side finally took the lead.
The second half saw Guangzhou continue their domination. Elkeson went close to double their lead five minutes from the final whistle, but his free kick was pushed over the ball by Kim Yong-dae.
"It was a tough game, we played well and create a few chances. The difference is Guangzhou converted their chances to goal," said FC Seoul's coach Choi Yongsooe.