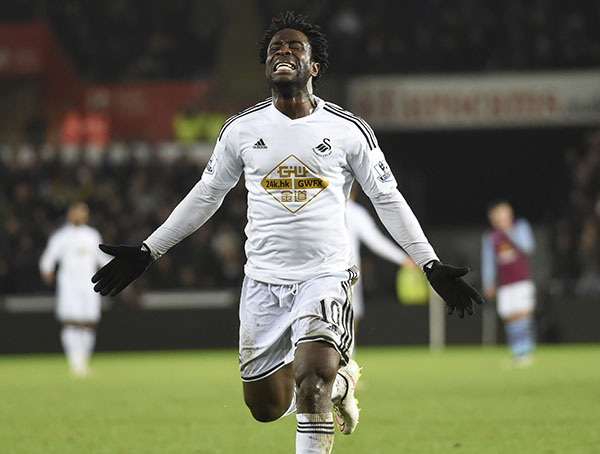 Then Swansea City forward Wilfried Bony celebrates scoring a goal, that was later disallowed, during their English Premier League soccer match at the Liberty Stadium in Swansea, Wales, in this December 26, 2014 file photo. [Photo/Agencies]
ABU DHABI, United Arab Emirates - Wilfried Bony joined Manchester City from Swansea on Wednesday to strengthen the English Premier League champion's striking options and fulfil his dream of playing in the Champions League.
"It's a great tournament that I really want to play in and one that I want to win," Bony said after signing the 4 1/2-year contract.
The 26-year-old Bony completed the deal while in Abu Dhabi on international duty with Ivory Coast ahead of the Africa Cup of Nations, which runs through Feb. 8.
Bony, who might not be available to make his City debut for a month, consulted Ivory Coast and new club teammate Yaya Toure before making the move.
"The Premier League is a tough league - my power is to always be in the box and in the right position," Toure said. "I'm always working hard to be there to score the goals and to improve.
"I speak with Yaya every day on international duty, and he will help me to become a better player and a more clinical striker."
The prolific forward, who joined Swansea in 2013 from Dutch side Vitesse Arnehm, has 25 goals in 54 Premier League matches.
"He is very difficult to mark because he is so strong," City manager Manuel Pellegrini said. "He is an intelligent footballer who has skill and power. His goals record has been excellent since he came to England.
"He adapted very quickly to the game here, and he will settle in at City quickly. He will be a very good addition to our squad. We now have four top-class strikers."
Bony will be competing for a place alongside Sergio Aguero, Edin Dzeko and Stevan Jovetic. The need to sign Bony was highlighted by recent injuries which forced City to play midfielder James Milner as a makeshift forward.