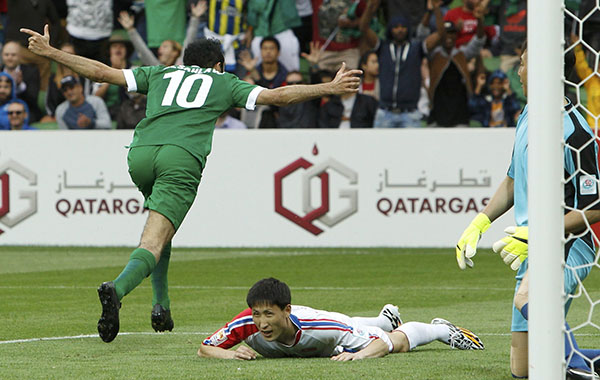 Saudi Arabia's Mohammed Al-Sahlawi (L) celebrates his goal next to North Korea's Jang Kuk Chol (C) and goalkeeper Ri Myong Guk during their Asian Cup Group B soccer match at the Rectangular stadium in Melbourne January 14, 2015. [Photo/Agencies]
MELBOURNE - Al Sahlawi's two goals in the second half helped Saudi Arabia smash DPR Korea 4-1 at AFC Asian Cup's second round in the group stage here on Wednesday.
Having been knocked out of the Asian Cup at the group stage in their last two appearances at the finals (2011 and 1992), DPR Korea are looking to defeat Saudi Arabia and push their claims for a berth in this edition' s knockout phase.
They broke the deadlock in the 11th minute when Yong-Gi scored into an empty net, the first goal for DPR Korea in AFC Asian Cup for 23 years.
Later on, Saudi Arabia started to control possession more and opening chances. Their hard work got paid off in the 36th minute when Naif Hazazi's shot equalized the game.
Saudi Arabia almost scored another goal in the 42nd minute, but only saw Nawaf Alabid's brilliant shot denied by DPR Korea's goalkeeper Ri Myong Guk.
Saudi Arabia took the lead 2-1 in the beginning of the second half when Al Sahlawi tapped the ball into the net after receiving a beautiful cross from the left wing in the 51th minute.
Two minutes later, Saudi Arabia expanded their lead to 3-1. A mix-up at the back has the DPR Korea defence forced into a clearance, Al Sahlawi took the chance to make an empty goal after being hit by Jang Song Hyok's mistaken kick.
Nawaf Alabid sealed the 4-1 win for Saudi Arabid in the 76th minute by a shocking penalty saved put rattles off one post to the other and finally being scrambled in.
Saudi Arabia lost every single one of their three AFC Asian Cup group stage matches at Qatar 2011 and began Australia 2015 with another defeat beaten by China 1-0 in their openning match last Saturday.
This is the ninth international meeting between these two teams and DPR Korea have only won one of their previous eight.