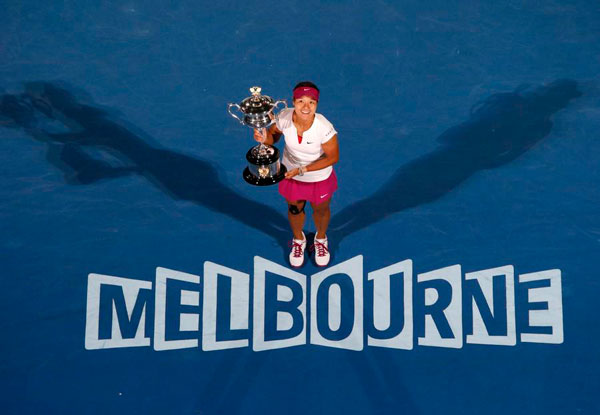 China's tennis icon Li Na poses with The Daphne Akhurst Memorial Cup after winning the women's singles final match at the Australian Open 2014 tennis tournament in Melbourne in this Jan 25, 2014 file photo. [Photo/Agencies]
MELBOURNE - The Australian Open says it has increased prize money to a record high of 40 million Australian dollars (US$32.5 million) to take into account the fall of the Australian dollar in the past several months.
The tournament, which begins at Melbourne Park on Jan. 19, said Friday it will offer men's and women's singles winners each A$3.1 million, or $2.52 million.
That's an increase of A$100,000 from the $3 million to the singles winners it announced last October.
But taking into account the slide in the Australian dollar from near parity or above the US dollar to its current 81 cents, it means the respective singles champions will still receive about US$10,000 less than the amount announced in October, based on exchange rates then.