LONDON - Manchester United suffered a double blow on Thursday with Daley Blind ruled out for a "long" spell due to a knee problem and Radamel Falcao receiving a "new injury" that will keep him out for at least two more weeks.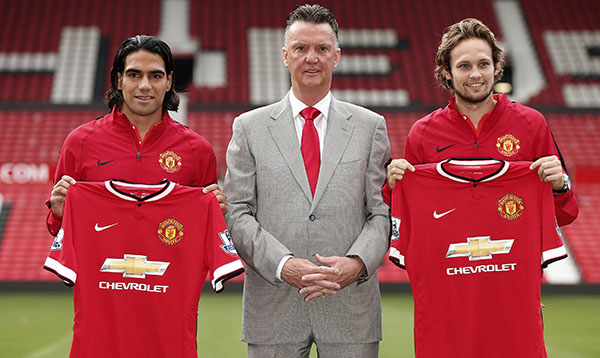 New Manchester United signings Radamel Falcao (L) and Daley Blind (R) pose with manager Louis Van Gaal during a photocall at Old Trafford in Manchester in this September 11, 2014 file photo. English Premier League club Manchester United posted a 10 percent fall in first quarter revenue as the absence of lucrative Champions League soccer this season took its toll. [Photo/Agencies]
"Blind is not ready, he has a brace on his knee. He needs 10 days' rest. Then we'll have another scan and say more about his injury," manager Louis van Gaal was quoted as saying on the club website.
"It's not as bad as the doctors thought after the match. It shall be a long story, I believe, but not six months or something."
Midfielder Blind limped off in the Netherlands' 6-0 win over Latvia in a Euro 2016 qualifier on Nov. 16.
Earlier on Thursday, United said on their Twitter account that Blind "could be out for six months".
On-loan striker Falcao, who has not featured since United drew 2-2 at West Bromwich Albion on Oct. 20, has injured his calf and is at least two weeks away from returning to fitness.
"It takes time," Van Gaal said. "Next week he shall train...and then he needs two weeks and maybe a game."
The Colombia international dismissed media reports he was struggling to get over the serious knee injury he suffered last season.
"It detracts from the credibility of the media that there is so much speculation and that so many falsehoods have been written," Falcao said.
"I did take a small injury to my calf, which is something that I need to be careful with, but there are a lot of stories circulating that are pure speculation."
United had doubts about 12 players for this Saturday's Premier League match at Arsenal in the wake of the international break but Van Gaal was hopeful winger Angel Di Maria, keeper David De Gea, full back Luke Shaw and midfielder Michael Carrick would be fit.
"It's difficult to say if anyone is back because we have to wait for Friday's training session to decide if they're back," the manager said.
"Di Maria has trained today normally so I don't think that is a question mark but Shaw is. De Gea is good, no problem. I think I have to wait for the reactions tomorrow in training with Carrick but I also expect he's ready to play."
United are seventh in the table, one point and one place behind Arsenal after 11 games with both teams struggling to put together a consistent run of form.