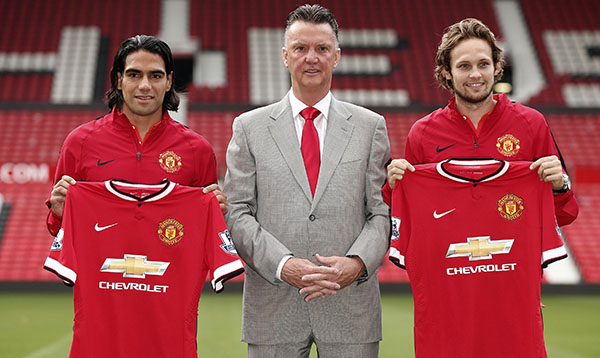 New Manchester United signings Radamel Falcao (L) and Daley Blind (R) pose with manager Louis Van Gaal during a photocall at Old Trafford in Manchester, northern England September 11, 2014. [Photo/Agencies]
LONDON - A composed and measured Radamel Falcao made his media bow at Manchester United on Thursday, showing few signs of the weight of goal-scoring expectation on his shoulders.
United, who have managed only two points in three league games under new coach Louis van Gaal so far this season, paraded Falcao and fellow new signing Daley Blind to the press and cameras before their expected debuts against Queens Park Rangers this weekend.
The club signed the Colombian striker, who has spent most of 2014 out injured, on a year's loan from Monaco just before the transfer market closed last week with an option to buy at the end of the season, in a deal that some commentators said smacked of desperation.
But Falcao, 28, speaking in careful English, said what the fans wanted to hear - that he was looking long-term.
"I hope to stay many years at Manchester United and make history at this club."
Falcao sidestepped questions about his short stays at Porto, Atletico Madrid and Monaco - three clubs in four years - and about talk of a transfer to Real Madrid before his last-minute move to Manchester.
He said all the right things.
"I feel good. I have had a great welcome. Any settling in period is easy when the quality of players is so good," the Colombian, who joins Robin van Persie and Wayne Rooney in United's attacking line-up, said.
Falcao's anterior cruciate ligament injury kept him out of the World Cup. He played some pre-season friendlies with Monaco and some 15 minutes of Colombia's defeat by Brazil last Friday.
"I feel well," said Falcao, who scored seven goals in his first seven games for Monaco last season. "I started to play two months ago with Monaco. I've improved in the last month. I've scored goals which is important to a striker.
"I'm confident with my physical form and I'm comfortable with my knee."
OVER THE EDGE
Van Gaal, appointed after United finished in an unaccustomed seventh last season under David Moyes, has been criticised for splashing out 150 million pounds on new players.
Former United defender Gary Neville said in a radio interview: "Falcao tipped them over the edge, it surprised and shocked everyone. How (Van Gaal) gets them (all) in that team I don't know."
"It's not the way I would expect United to go about their business. I thought it would be more controlled," Neville, now an England assistant coach and television commentator, said.
Van Gaal also broke the English transfer record in buying Argentine Angel Di Maria from Real Madrid.
The Dutch coach sharply answered his critics on Thursday, saying the club had bought five players and taken Falcao on loan but they had shed 14, including striker Danny Welbeck who left for Arsenal.
"So how to fit in these players is not so difficult," he said.
Van Gaal added that youth players would also get their chance. That had always been the club's policy, he said.
"The eight vacancies left by the departures can be filled by the youths but they must know they have to step up," he said.
He added that Welbeck had had his chance. "He did not have the same record as Van Persie or Rooney. That's why we let him go. Because of Falcao and also the youngsters we have to come in."
And he acknowledged the pressure the Colombian was under.
"When you can hire a player like Falcao, I don't have doubts because he is one of the best strikers in the world. Today in training he gave one ball and it was in the goal.
"But when I say this I know I put too much pressure on him...it's very difficult to come from another club to Manchester United in a new process."