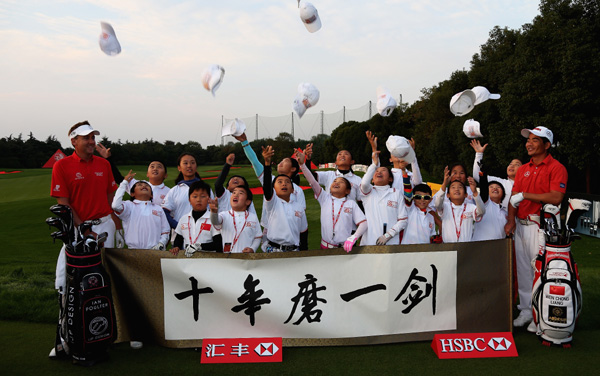 Former winner and China's golfing hero host 10th anniversary masterclass for elite juniors at Sheshan International Golf Club
Former WGC-HSBC Champions winner Ian Poulter and Chinese golfing legend Liang Wen-chong, the only two players to compete in every staging of HSBC Champions over the last decade, treated twenty elite junior Chinese golfers with a lesson of a lifetime in the final build-up to this week's landmark WGC-HSBC Champions tournament at Sheshan International Golf Club, Shanghai, November 6-9, 2014.
The junior clinic held on the eve of the 10th anniversary of "Asia's Major" at Sheshan International Golf Club saw the world-class duo join forces on the practice range to demonstrate their incredible ball striking skills and offer China's future stars some unique insights into what it takes to become a true champion.
The elite young golfers are a real life example of HSBC's long-term vision to create a lasting legacy through sponsoring youth development and a grassroots golf initiatives, and form part of the CGA-HSBC China Junior Golf Program - a sustainable long-term structure and framework upon which the future of Chinese golf is being built.
Poulter one of golf's most colourful and charismatic characters lit up the eyes of the juniors as they listened to his every word. Following the clinic the 2012 WGC-HSBC Champions winner said: "I've played in every single HSBC Champions so China and this event has become very special to me over the years. I'm looking forward to another great week and performance at Sheshan. It's been amazing to see with my own eyes a tournament emerge beyond all recognition to become not only the biggest in Asia but one of the biggest in the world.
"Everything about Champions is impressive including the next generation of talented young Chinese players that have been inspired through the tournament and the guiding support of the CGA-HSBC China Junior Golf Program. To spend some time on the range with these youngsters is the perfect way to celebrate China's incredible journey. It proves the future is just as exciting as the past 10 years. Technically they are all very sound. And as I explained to each one from here it just takes a lot of hard work, desire and hunger if they too want to be champions one day."
While European Tour winner and China's most successful player over the last decade Wen-chong shared his unrivalled experience as one of the first Chinese golfer's to compete on the global stage and successfully handle the pressures of top-class tournament golf.
The only player to star alongside Poulter in all HSBC Champions, Liang Wen-chong said: "today clearly shows the impact of HSBC Champions goes far beyond the professional game. You just need to look at the talent and ambition of young Chinese golfers on display here, even those early in their development."
"Celebrating the 10th Anniversary of HSBC Champions with junior players like this fills me with huge pride and also hope for the future of Chinese golf. Hopefully by sharing some of the special experiences I've gained playing at HSBC Champions I will have given a helping hand to the next generation of Chinese players. I would like to thank HSBC and the China Golf Association for the opportunities Chinese golfers have to compete with the best players in the world."
Giles Morgan, Global Head of Sponsorship & Events HSBC Holdings plc, said: "This week there has been great recognition of all that has been achieved by HSBC Champions as part of China's incredible golfing journey over the last 10 years. We're rightly proud of the statistics which show we continue to assemble the highest quality field of golfers in Asia. We now have a tournament that is, with the exception of The Open Championship, now the highest-ranked golf tournament in the world outside of the United States.
"But more important than any statistic we are making a real difference to every level of golf, helping Asia become an unstoppable force in the game. The world's best players are getting younger, fitter and emerging from more corners of the world than ever before. That's exactly why HSBC continues to open up the world of golf in China. This is the future and we're nurturing the rising stars and creating once in a lifetime opportunities for the game's next generation to fulfil their potential. To witness two champion golfers that have followed our every step in China like Ian Poulter and Liang Wen-chong side by side, guiding these young players on their next steps in the game perfectly reflects our commitment to the future of golf in China."
This year's tournament, which takes place at the Sheshan International Golf Club in Shanghai from November 6-9, represents a landmark moment for golf in Asia. When HSBC first brought the event to China in 2005, just 13 of the world's Top 50 players lined up; this year, for the second year running, 40 of the world's Top 50 will tee off for the $8.5 million showpiece.
The star-studded field includes Major champions Bubba Watson (Masters) and Martin Kaymer (US Open), World No 2 Adam Scott, World No 4 Sergio Garcia, World No 5 Henrik Stenson, World No 6 Justin Rose and World No 10 Rickie Fowler, FedEx Cup winner Billy Horschel, three time 2014 PGA Tour winner Jimmy Walker, Japanese star Hideki Matsuyama, two-time 2014 PGA Tour winner Chris Kirk, US Ryder Cup star Jordan Spieth and European Ryder Cup heroes Graeme McDowell and Jamie Donaldson.
The tournament boasts the toughest qualification criteria of all the World Golf Championships, with the majority of the field qualifying only by winning a key tournament on their Tours or by being ranked in the world's top 50.