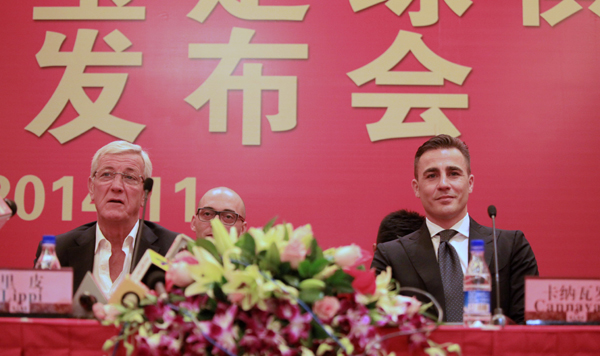 Former Italian soccer player Fabio Cannavaro (R) and his predecessor Marcello Lippi (L) attend a news conference announcing him as the new executive manager of Chinese Super League champion Guangzhou Evergrande Taobao Football Club, in Guangzhou, Guangdong province, Nov 5, 2014. [Photo by Qiu Quanlin/chinadaily.com.cn]
Former FIFA World Player of the Year, Fabio Cannavaro, has been appointed executive manager of four-time Chinese Super League champion, Guangzhou Evergrande, the club announced on Wednesday.
"Marcello Lippi will still serve as head coach, helping Cannavaro lead the team to a higher stage in the coming seasons," said club chairman Liu Yongzhuo.
Lippi, 66, announced his decision to leave the bench immediately after the Guangzhou club secured the point needed to clinch its fourth consecutive domestic title on Sunday.
He led Italy, captained by Cannavaro, to the World Cup in 2006.
Cannavaro, 41, is considered one of the greatest defenders of all time and spent the majority of his career in Italy, playing for Napoli, Parma, Inter Milan and Juventus.
He later joined Real Madrid before returning to Juventus for one season and finally retired in 2011 after playing for Al-Ahli in Dubai.
He won the FIFA World Player of the Year award in 2006, making him only the third defender to win the award.
The 2013-2014 season saw him work as assistant coach Al-Ahli.
qiuquanlin@chinadaily.com.cn