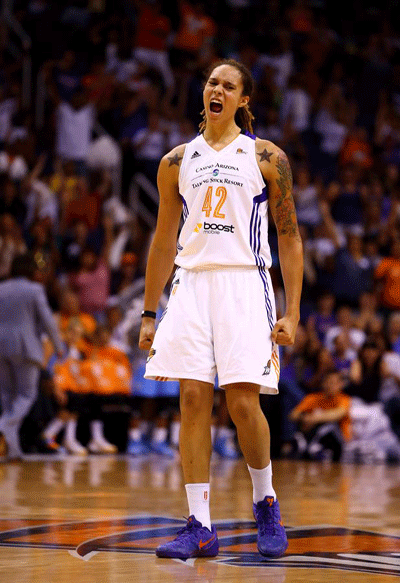 Phoenix Mercury center Brittney Griner reacts in the second quarter against the Chicago Sky during game one of the WNBA Finals at US Airways Center in this file photo taken September 7, 2014. [Photo/Agencies]
WNBA star Brittney Griner shrugged off a knife attack while boarding a bus after practice in Liaoning on Monday, sustaining a cut elbow, but was able to suit up to face Liaoning Hengye the following night.
Agent Lindsay Colas called the incident a random attack and said as Griner was wearing a winter coat the knife barely cut her skin.
The knifeman also stabbed one of Griner's teammates of Beijing Great Wall, which was on a visit in Shenyang, but she was wearing two jackets and the knife didn't go through.
Griner had 19 points, 11 rebounds and six blocks on Tuesday night. She posted a video and statement on her Instagram account after the incident saying she was fine.
"First let me say I'm ok!!!! ... Let's just say I'm ready to get out of this city we're visiting," Griner said on Instagram. "Life can be took at any moment! Cherish every moment!"
Colas said that the team will review its security protocol after the incident.
Griner plays in the WNBA with the Phoenix Mercury and helped the team win a championship this past September. She led the league with a record 129 blocks and was the WNBA Defensive Player of the Year. She also helped the US win a gold medal last month at the world championship.
"We are thankful Brittney and her teammates are all okay after this incident," the Mercury tweeted from their team account.
This is Griner's second season in China and first with the Beijing Great Wall.
She led Baylor to a 40-0 season and the 2012 NCAA title. She was the No. 1 pick by the Mercury in the 2013 draft.