Multiple viewing options bring fans closer to the action, on and off court
Chanting "Let's go, Brooklyn!" and "KG! (Kevin Garnett)" at the top of his lungs at Mercedes-Benz Arena on Sunday, Zhang Jiayang felt more exhilaration than he's ever experienced watching an NBA game on TV or on the screen of his cell phone.
"It is amazing to have watched for the first time an authentic NBA game from the stands," said Zhang, one of the almost 20,000 spectators who witnessed the NBA Global Games China preseason clash between the Nets and the Sacramento Kings.
"I saw many interesting things that I cannot see on TV or online. For example, I would have missed the cheerleaders and the mascot's hilarious kiss-cam with the security guard during the breaks if I watched the game on the screen, because they would be cut for commercial time.
"And the camera wouldn't go to (Nets power forward) Kevin Garnett on the bench as often as I wanted. Most importantly, interacting with other basketball fans in the stands gave me ten times more fun watching the game."
During a round-table chat with reporters on Friday, NBA commissioner Adam Silver expressed his high expectations of how technology, particularly digital media, will help bring the world's premier basketball league closer to fans all over the globe.
"It is a very exciting time for the marriage of technology and sports," Silver said.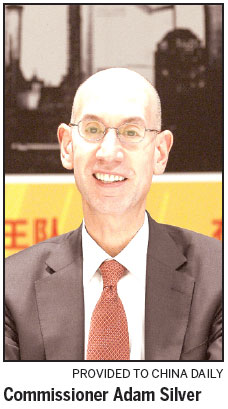 "The evolving television technology will allow a fan to feel as if he or she is actually sitting at courtside. And innovations in digital media will increase the value of live broadcasts.
"Being at the game through digital media, you can become a part of a larger community. A fan of the Nets in Shanghai can be exchanging information in real time with a fan watching on television in Brooklyn.
"And I'm sure that there will be technology that will instantly translate a Chinese fan's words along with a German fan's words, a French fan's words, all into a language that everyone can understand to make this one large communal experience.
"Our ultimate goal through digital media is to come as close as possible to replicating the experience of being at the game."
Zhang, 26, started watching live broadcasts of NBA games on Sina.com.cn, a Chinese portal, when he was at college.
"It's convenient to check the real-time match stats displayed below the video window. It will be great if there is a function for fans to talk with each other and share our comments in real time online," Zhang said.
"Thanks to smartphones and live broadcast technology, now I don't need to stare at the rolling written live reports of NBA games on the small screen of my cell phone to imagine the actual scene, and when TV doesn't broadcast a particular game that I want to watch, I can still watch it online."
Asked how he is going to solve the time zone problem Chinese fans have in watching the NBA, Silver joked: "I'm working on a time machine to solve that."
The commissioner told Bloomberg last month the NBA is considering 10 am games for Chinese audiences, who are in a time zone roughly 12 hours ahead of the East Coast of North America.
"When the potential audience becomes big enough, maybe it's not so crazy to ask a team once every two months to play a Saturday morning game," Silver said, defining "big enough" as an audience of 100 million viewers in China.
Silver, who has a goal of "making basketball the No 1 sport in the world," never conceals his zeal for the Chinese market.
"Nothing can be No 1 at anything in the world unless it is No 1 in China," he said.
Millions of Chinese fans who didn't attend Sunday's game watched it via one of the NBA's media partners: CCTV 5, SMG's Best TV and portals Sina and Tencent.
Additionally, fans in more than 200 other countries watched it live through domestic media outlets.
"So not only do the Global Games bring the NBA to China, but through broadcasting our games in China around the globe they also bring China to the rest of the world," Silver said.
The second Global Games China showdown between the Kings and the Nets is set for Beijing's MasterCard Center on Wednesday night.
xujingxi@chinadaily.com.cn