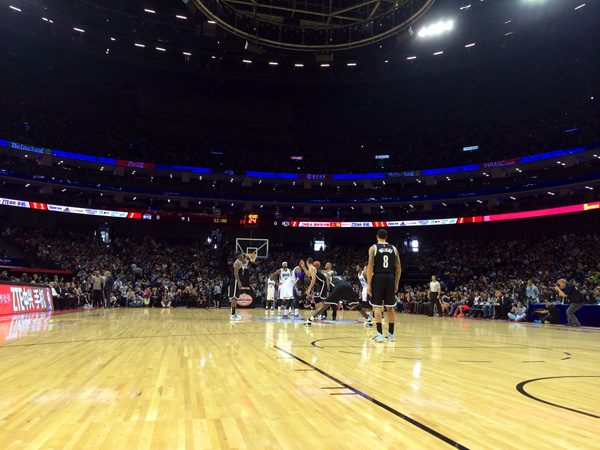 Sacramento Kings and Brooklyn Nets played the opening leg of a two-game series in China on Sunday at the Mercedes-Benz Arena in Shanghai, with the Nets winning the contest 97-95. [Photo/China Daily USA]
As part of the National Basketball Association's (NBA) global outreach efforts, five teams have been tagged for this year's installment of the league's Global Games initiative, a weeklong series of international exhibition matches held as a prelude to the upcoming pro basketball season.
Participating teams - the Brooklyn Nets, Cleveland Cavaliers, Miami Heat, Sacramento Kings and San Antonio Spurs - are scheduled to take part in games in five cities across four countries (Brazil, China, Germany and Turkey).
The Kings and Nets played the opening leg of a two-game series in China on Sunday at the Mercedes-Benz Arena in Shanghai, with the Nets winning the contest 97-95.
A rematch will be held in Beijing at the MasterCard Center on Oct 15.
At a Sunday press conference in Shanghai, NBA Commissioner Adam Silver said: "The growth of the NBA over the last decade has exceeded our expectations. These are the NBA's 17th and 18th games in China … and the biggest change over the past decade has been the explosion of interest on social media, which allows fans here in China to follow the NBA as if they lived in the same city as their [favorite NBA team]."
NBA China, the Beijing-based arm of the NBA formed in January 2008 to spearhead the league's business in China, has helped the league forge relationships with a number of television and digital media partners, including a partnership of more than 25 years with China Central Television (CCTV).
NBA China's CEO, David Shoemaker, told China Daily in January that NBA China's social media platforms have "nearly 70 million fans and followers," allowing basketball faithful to "get as much NBA as they can digest".
China has a collective penchant for everything basketball and executives from two NBA teams believe that relationship is ripe for future growth.
"When Vivek Ranadive and our ownership team bought the Kings, we started talking about a vision … to help the Kings become a more global brand," Sacramento Kings team president Chris Granger said in a Sunday phone interview with China Daily.
"Whether it's in China, Berlin, Rio, to the extent that we can bring the game around the world that's something we're very focused on doing," he said. "And you can expect a lot more of it going forward because we really have an opportunity to make the world a smaller place with our game."
Fred Mangione, chief operating officer for the Brooklyn Nets and the Barclays Center, said his organization has kept an eye on the Chinese market for some time.
"When we go abroad and play in international markets, our goal is not only to just play the game," Mangione said in a Sunday phone interview with China Daily. "It's also about business and community events to make sure we utilize the stay as much as possible, both from a basketball and a business perspective."
"We've always kind of been on the ground in China, even when we played here four years ago," he said. "Since we're in New York, the biggest market in the US, the Chinese community is a big demographic to hit. The game is the focal point, but it's more than just a game. We really kind of take over the area we're in for the week."
Basketball has established a major international presence with NBA games broadcast in 215 countries and territories and in 47 languages. The NBA has staged nearly 150 preseason and regular-season games in close to 20 countries and territories since the NBA's first-ever international game in 1978.
Mangione said: "China has an appetite for basketball, which is why these games … are truly a stamp for the league. We like to think of China as a second market, so you have to keep up consistency. We're consistently in China and it's not a one-off for us. But no one goes global like the NBA."
Granger said: "The opportunity to play two games in China, in Beijing and Shanghai, is right in line with how we think about our business and how we think about expanding our brand. And to the extent that our players can help further our mission, they're up to the challenge."
jackfreifelder@chinadailyusa.com