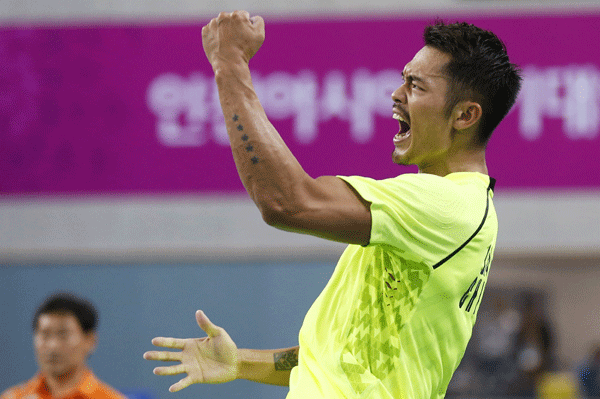 China's Lin Dan reacts after winning the men's singles gold medal badminton match against compatriot Chen Long at Gyeyang Gymnasium at the 17th Asian Games in Incheon September 29, 2014.  [Photo/Xinhua]
Chinese badminton great Lin Dan said he wants to compete in the 2020 Tokyo Olympics, dismissing retirement plans after winning Asian Games singles gold on Monday.
Asked how long he would keep competing, Lin at first said he did not know.
But when pushed by reporters on whether he would defend his Olympic title in Rio de Janeiro in two years, Lin went one better, replying: "Tokyo."
He went on to confirm his ambition to play in Japan, when he would be 36 years old.
"I feel very lucky to have won gold here today - I want to play more for my country and I'm looking ahead to the Tokyo Olympics," he said.
Lin was in powerful form in Incheon, overcoming arch rival Lee Chong Wei of Malaysia in the singles semifinals before defeating 25-year-old teammate Chen Long in an epic three-set final.
Even though world champion Chen is heir apparent to Lin's throne, he has still never beaten "Super Dan," who is 7-0 in their head-to-head battles.
Lin turned to the crowd and pumped his fists after his victory, then removed his shirt and replaced it with a Chinese flag tossed to him from the stands, while a disconsolate Chen stood on the sidelines waiting for a handshake.
No 1-seeded Lee, who won bronze, was more cautious about his future plans, saying he will now prepare for Rio.
"I need a rest now because next year the Olympic points will start, and that's more important," said 31-year-old Lee, adding this would be his last Asian Games.
He added that the Denmark Open in October would likely be his final competition this year before taking a break.