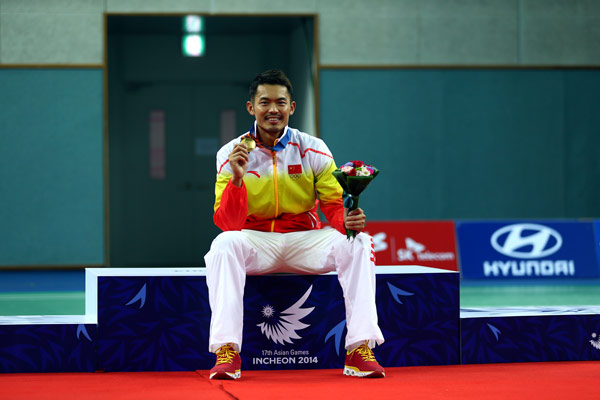 Lin Dan of China poses after the awarding ceremony of the men's singles contest of badminton at the 17th Asian Games in Incheon, South Korea, Sept 29, 2014. Lin Dan defeated his teammate Chen Long 2-1 and claimed the title. [Photo/Xinhua]
INCHEON, South Korea - Chinese superstar Lin Dan defeated teammate Chen Long to win the men's badminton singles title in Asian Games in Incheon on Monday.
Newly-crowned world champion Chen Long started better in the first game, going into the break 11-4 up, with Lin appearing not in form. After committing several errors, Lin lost the game 12-21.
But the 31-year-old rallied in the second with both players putting on an amazing display of powerful smashes and deft net duels. After leading 18-16, Lin never allowed his opponent to catch up by taking the game 21-16.
Chen did make Lin sweat with a few flashes of brilliance in the decider. However, consistent Lin proved unstoppable to win 21-16, taking a 2-1 victory.
Pumping both fists, "Super Dan" celebrated his win in a characteristic flamboyant fashion -- tearing off his neon yellow shirt before tossing it at the fanatic crowd and then putting on the Chinese national flag.
"I'm very happy, feel like finally I can relax," said a smiling Lin after the match. "My younger teammates are very good, too, and they can achieve grand slam as well. So I hope that I can create some new records within limited time."
Chen didn't make any excuse for his failure. "We both played very well today," he said, "But I was a bit anxious when he scored several points in a row to take the lead."
"I went to great lengths to fight against Lin Dan," he added.
Lee Chong Wei of Malaysia and Wei Nan of China's Hong Kong shared the bronze.