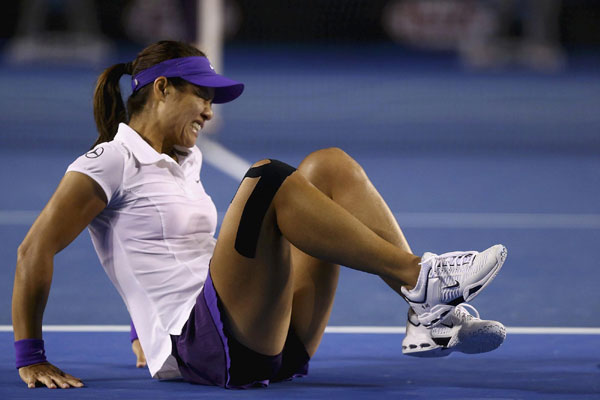 Li Na of China reacts after falling during her women's singles final match against Victoria Azarenka of Belarus at the Australian Open tennis tournament in Melbourne, Jan 26, 2013. [Photo/Agencies]
An unconfirmed rumor of tennis sensation Li Na's decision to retire has drawn more than 10 million views on Internet in just a few hours, but official sources have yet to address the hot-button issue.
CNTVsports, CCTV5's official account on Sina Weibo, posted on Thursday afternoon that Li Na will not attend the upcoming Wuhan Open or China Open, quoting the Asia-Pacific President of IMG that serves as Li's agent.
The Sino Weibo post went on to claim that Li, 32, will announce her retirement at the opening of this year's China Open on Sept 21. CNTVsports said the news was confirmed by the China Open organizing committee.
CNTVsports, citing insiders, claimed Li will announce her decision to step away from tennis via her Sina Weibo account on Friday.
The rumor follows persistent reports over the last few months that the two-time Grand Slam champion is about to stand down.
Other reports said her management company IMG will hold a press conference to announce the decision on Friday and a farewell ceremony will be held during the China Open, which will be held from Sept 27 to Oct 5 in Beijing.
Such news sparked nearly 12 million comments and views as of 2 pm on Thursday.
According to the schedule, Li should play in the Wuhan Open in her hometown from Friday and then go to the capital for the China Open.
All sources declined to confirm the reports on Thursday. The World Tennis Association told China Daily their staff has no knowledge of Li's decision. Organizers at the China Open said they have received no information from Li about her withdrawal or retirement.
"IMG said they didn't know where the news of a press conference tomorrow comes from and Li is not in Beijing right now," Liu Renjie, tennis editor of sina.com, posted on his Weibo account. "As for other questions, such as whether she will retire or play at the Wuhan Open, there was no answer."
Li has not played since losing this year in the third round of Wimbledon to Barbora Zahlavova Strycova. Ahe lost in the first round at the French Open, a tournament she won in 2011, to Frenchwoman Kristina Mladenovic.
Coach Carlos Rodriguez, under pressure from the tennis club he works for in China to get back to his day job, stepped down as her coach after the French Open. Tennis experts and observers agree: it's been a tough year for Li.
Reports in local media claim Li traveled to Germany, where she has been based in recent years to be near the medical team that has kept her ailing right knee fit for play, on Sept 2.
An intricate tape job on Li's right knee has been a staple of her on-court gear for years. She has had several surgeries and in her memoirs detailed the painful procedures she has undergone just to stay on court.
During the US Open, tennis broadcaster Mary Carillo said Li was planning to retire after the China Open in Beijing. Li's IMG agent, Max Eisenbud, denied the rumors.