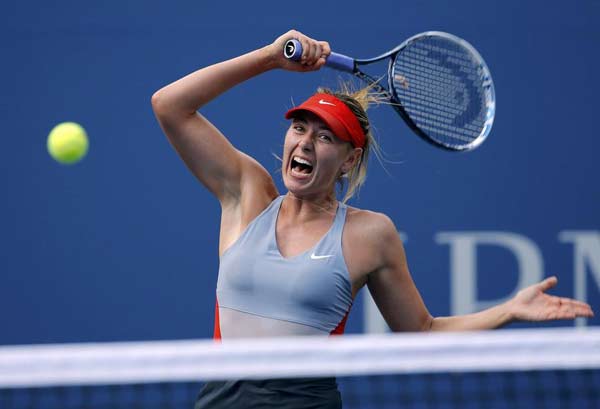 Maria Sharapova of Russia hits a return to Caroline Wozniacki of Denmark during their match at the 2014 US Open tennis tournament in New York, Aug 31, 2014. [Photo/Agencies]
NEW YORK - Caroline Wozniacki trusts her stamina so much that she plans to return to New York in two months to run a marathon.
Maria Sharapova, usually the one wearing down opponents in the third set, sure couldn't keep up on a steamy Sunday at the US Open. Wozniacki won 6-4, 2-6, 6-2 in 2 hours, 37 minutes to get back to her first Grand Slam quarterfinal in more than two years - and get back in the headlines for reasons other than her personal life.
"The season for me has been a little bit up and down," she said in quite an understatement, "and it's so nice to kind of start feeling like I'm playing the way I want to."
Because of the heat, the players received a 10-minute break before the final set; Sharapova returned to the court late, arguing with the chair umpire after receiving a time violation warning. Perhaps sensing that she was fresher than the five-time major champion, Wozniacki later complained that Sharapova was dawdling between points.
Her tardiness seemed to swing the Arthur Ashe Stadium crowd's support squarely in Wozniacki's favor. When the 10th-seeded Dane broke Sharapova at love to go up 3-1 in the final set, she got a standing ovation from the fans and waved her arms to egg them on. Sharapova had appeared to hit a winner three times on that game's final point only for Wozniacki to somehow chase down the ball. Finally, Sharapova put a volley into the net.
Wozniacki mixed in just enough aggression with her signature defense to keep the pressure on Sharapova in the final set.
"She's very good at getting a lot of balls back and making you hit another one," Sharapova said. "In the end, I went for a little too much."
She insisted the conditions didn't bother her. Sharapova had been 17-6 in three-set matches this year, including her come-from-behind second-round victory here.
The fifth-seeded Sharapova's loss leaves No 1 Serena Williams as the only woman remaining of the top six. Ninth-seeded Jelena Jankovic was also upset, losing 7-6 (6), 6-3 to 17-year-old Swiss Belinda Bencic.
With mentor Martina Hingis cheering from the stands, Bencic became the youngest US Open quarterfinalist since Hingis herself in 1997.
After a sloppy first set, Sharapova was painting the lines in the second. Wozniacki seemed to spend most of it watching in dismay as one of Sharapova's 22 winners whizzed by.
Wozniacki said she told herself before the third set to go for her shots.
"If I'm going to lose," she recalled thinking, "at least I'm going to do it with dignity."
She closed out the match by breaking Sharapova's serve again with a backhand winner. About a half-hour later, thunderstorms halted play with second-seeded Roger Federer down a break in the first set to Marcel Granollers.