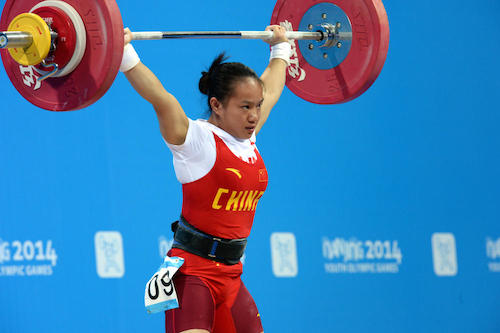 Jiang Huihua wins China's first gold with relative ease then said she still needs to improve.[Photo/nanjing2014.org]
NANJING - Jiang Huihua won China's first medal at the Nanjing 2014 Youth Olympic Games on Sunday, outclassing the field in the women's 48kg event to take the gold with ease.
Jiang's best of three lifts in the snatch was 88kg and she hoisted 105kg in the clean and jerk to finish with a total of 193 kg. That is more than four times her body weight of 47.3kg.
"I am very excited to get the first gold medal for the Chinese delegation," said the 16-year-old Jiang.
Ri Songgum of DPR Korea and Rebeka Koha of Latvia each finished with a combined lift of 165kg but Ri was awarded the silver medal because she weighed 1.92kg less than the bronze medallist.
There was a gap between Jiang, the only top-10 competitor in the group of 11 weightlifters contesting this event, and the rest of the field. By the time the competition got down to the contenders, the race was more for the silver and bronze.
"She was hard to beat," said Koha about Jiang.
Jiang hardly broke a sweat in hoisting 90kg with her first lift in the clean and jerk, 100 with her second and 105 with her third.
"I am proud of my performance but I have a little pity for the snatch because I failed in the second chance (85kg)," said Jiang.
She more than made up for it with her third attempt in the snatch, putting 88kg over her head with a clean lift.
"I still have lots of things to do to improve my skill in the snatch, especially in the continuous movement," she added.