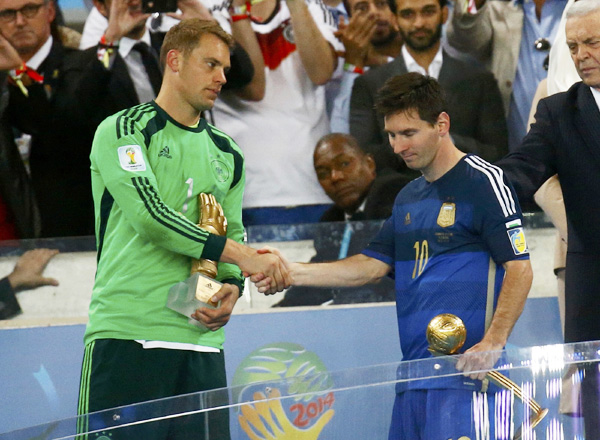 Golden Glove winner Germany's goalkeeper Manuel Neuer (L) congratulates Golden Ball winner Argentina's Lionel Messi (10) after their 2014 World Cup final at the Maracana stadium in Rio de Janeiro, July 13, 2014. [Photo/Agencies]
RIO DE JANEIRO - Lionel Messi walked up the steps at the Maracana. It was at the end of 120 minutes of Sunday's gripping World Cup final and the Argentine was collecting a revered golden trophy, one befitting his status as the greatest player of his generation.
Still, though, Messi wore a look of anguish. The trophy he was receiving was the "Golden Ball" awarded to the World Cup's best player, scant consolation for missing out on the big prize which sat within touching distance but as far away as ever.
"It is a sad prize that I won because we wanted to lift the trophy for Argentina," he said, as if the look on his face had not already said it all.
For two hours, in front of almost 75,000 howling football fans, Messi failed to produce that special magic for which he is renowned, and was unable to lead his team to World Cup glory.
Instead, Germany broke the South American stranglehold on World Cups held in the Americas, and won a fourth title to add to the trophies won by West Germany in 1954, 1974 and 1990.
Messi will surely long reflect on this match, one which could have gilded his already sparkling reputation, but which instead will sit like a stain on his resume.
It took him two minutes to get his first touch of the ball with a cushioned chest from a throw-in and 118 minutes later he had his last with a free kick lashed high over the German bar.
Messi's chance of adding a World Cup crown to his staggering haul of football treasure had disappeared in a Maracana cauldron of noise.
The greatest player of his generation grimaced, smiled and looked up into the Rio de Janeiro night sky. The magical Messi had been unable to unlock the world's best team and Germany were champions.
Their 1-0 victory had been a thunderous contest, full of robust tackles and it was a match Messi had been unable to stamp his authority over.