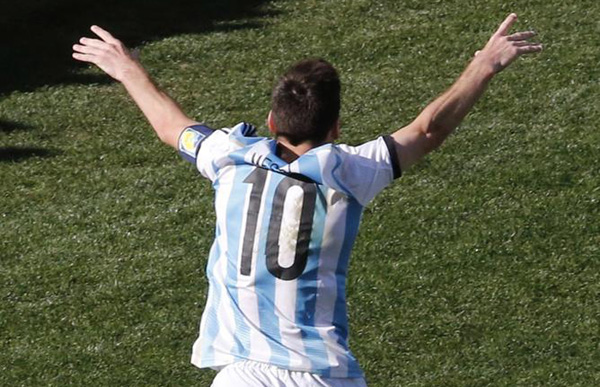 Argentina's Lionel Messi celebrates a goal against Switzerland by teammate Angel Di Maria (not pictured) during extra time in their 2014 World Cup round of 16 game at the Corinthians arena in Sao Paulo, July 1, 2014. [Photo/Agencies]
SAO PAULO - Lionel Messi fell, then jumped back to his feet with a little help from the gentlemanly Swiss player who had knocked him down. This happened all afternoon, because Argentina is still a one-man show at this World Cup attracting all of every opponent's attention.
Tackled, pushed or fouled practically each time he touched the ball, the feisty 5-foot-5 forward forcefully hit the ground again and again.
Argentina's leader made one last run on exhausted, beat-up legs to help send Argentina back to the World Cup quarterfinals with a captivating 1-0 extra-time victory against Switzerland on Tuesday.
Messi made a burst down the middle and passed from the top of the 18-yard box to set up Angel di Maria's goal in the 118th minute.
"First of all, I don't know whether I deserved this one or not, but what's important is that we moved on to the next stage," Messi said when honored as man of the match. "It was difficult. We knew it was going to be a hard match."
The Swiss swarmed Messi from every angle, and his chances were few, but he still delivered the key pass with his nation on the brink.
That's the respect factor No. 10 brings each time he pulls on the uniform, and it was on full display under sunny skies at Itaquerao Stadium.
"We know that Messi in one second can decide a match," Switzerland coach Ottmar Hitzfeld said.
The Messi phenomenon has traveled far beyond Buenos Aires and Argentina. This World Cup, it's all about Messi, Brazil-style. Now, there's more: Argentina will face the winner of Tuesday night's match between Belgium and the United States in the quarterfinals Saturday in Brasilia.
One fan Tuesday held a poster of Rio de Janeiro's famous Christ the Redeemer statue with Messi's head on it.
The crowd erupted in cheers when "No 10, Messi" was announced 30 minutes before kickoff, then Messi led La Albiceleste onto the field with tens of thousands dancing, singing and waving flags in the stands. He hugged the young boy who had the good fortune of walking hand in hand with one of the globe's most recognizable faces.
A humongous section of Argentines erupted into a 10th-minute trademark chant and Messi tribute tune: "With the hand of Lionel Messi, we're going to be the champions!"
In the 87th minute, Messi became furious when he took an elbow to the head from Valon Behrami, who was shoved by Messi as he got to his feet.
Messi, who turned 27 on June 24, scored four of his team's six goals to help Argentina capture the top spot from Group F. Those performances helped erase some of the sting of going without a goal in South Africa four years ago, when Argentina lost 4-0 to Germany in the quarterfinals. He did help set up half of Argentina's 10 goals.
He had two great chances Tuesday. Still, the star striker is leaving quite an imprint on Brazil in his third World Cup after that forgettable 2010 performance and a one-goal showing at the 2006 tournament in Germany.
As soon as the animated Argentines were allowed inside, some 2 1/2 hours before kickoff, the chants of "Messi! Messi!" began in earnest.
Diego Maradona, the former Argentine coach who led the country to its last World Cup title as a player in 1986 in Mexico City, said he considers Messi the best player in the world regardless of whether he wins a World Cup.
Now, Messi's special 2014 run rolls on as Argentina chases its third World Cup championship. The Argentines also captured the 1978 title by beating the Netherlands at home in Buenos Aires.
"All of Argentina is very happy," defender Ezequiel Garay said.