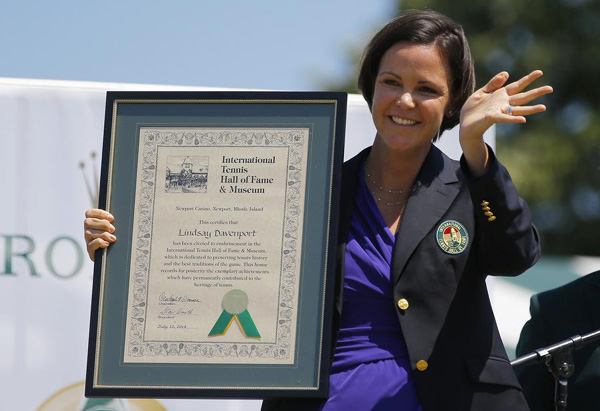 Former tennis player Lindsay Davenport of the United States waves and holds her plaque after being inducted into the International Tennis Hall of Fame in Newport, Rhode Island, July 12, 2014. [Photo/Agencies]
NEWPORT, Rhode Island - Lindsay Davenport remembers picking up a tennis racket as a child and the feeling that came with the ease of a powerful return. After giving up on two other sports, she found something she liked.
On Saturday, she reached her sport's highest honor, with her induction into the International Tennis Hall of Fame.
Davenport spent 98 weeks ranked No 1. She won the 1998 US Open, 1999 Wimbledon, 2000 Australian Open and 1996 Olympic gold medal to go with three major doubles titles. She finished the end of four years ranked No 1.
Chris Evert was among those at the ceremony. The tennis great described Davenport's game as "so loud, so strong and aggressive."
Davenport entered the hall with five-time Paralympic medalist Chantal Vandierendonck in the recent player category, coach Nick Bollettieri, executive Jane Brown Grimes, and broadcaster John Barrett in the contributor category.
"Hitting the ball and making contact was always something that came very natural to me," Davenport said. "It was a blessing. It happened at a very young age. I didn't realize that it was that hard to do and I had a special talent, and it took a long time to put that altogether.
"That's what made it so fun to me, the sound, and what I could do with the shots, and see how hard I could hit them. Everything else about the game took work and was a struggle, but that was something and that was the reason why I fell in love with it."
She was presented by friend and former ATP pro Justin Gimelstob, who played against her at a clinic.
The 82-year old Bollettieri has coached 10 players to the No 1 ranking, including Andre Agassi, Jim Courier, Monica Seles and Boris Becker. In 1978, he founded the Nick Bollettieri Tennis Academy, the first full-time tennis boarding school in the US.
"The older you get, it's not the (age), but what you have here," he said, touching his chest near his heart.
Vandierendonck was a top Dutch player before she was injured in a car accident in 1983. She's the first woman wheelchair player inducted.
Brown Grimes is a former managing director of the Women's Professional Tennis Council (now known as the WTA Board), president of the US Tennis Association, and president of the International Tennis Hall of Fame.
Barrett was the "Voice of Wimbledon" on the BBC from 1971-2006. His wife, former top-ranked player Angela Mortimer Barrett, was inducted into the hall in 1993. Agassi and Steffi Graf are the only other married couple in the hall.