The San Antonio Spurs handled the Heat, and the heat, during a sweltering start to the NBA Finals.
Tim Duncan had 21 points and 10 rebounds, and the Spurs beat Miami 110-95 on Thursday night in Game 1 inside a steamy AT&T Center.
With an air-conditioning failure making it feel like basketball in a sauna and causing LeBron James to battle cramps that knocked him out of the game's decisive stretch, the Spurs pulled away to win the opener of the first Finals rematch since 1998.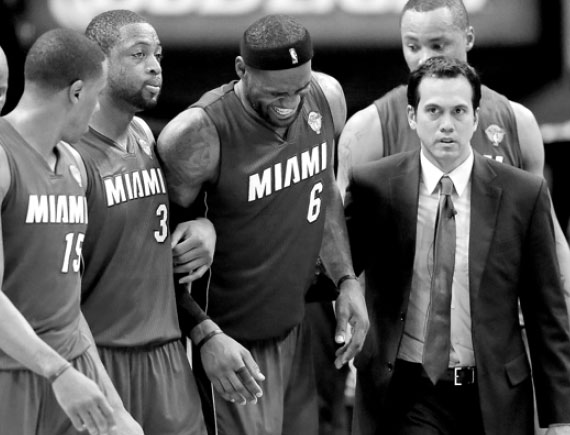 LeBron James is helped from the court by Mario Chalmers (15), Dwyane Wade (3), Erik Spoelstra and Rashard Lewis during the second half of Game 1 of the NBA Finals on Thursday. Eric Gay / AP
Manu Ginobili had 16 points and 11 assists, and Tony Parker added 19 points and eight assists for the Spurs, who shot 59 percent and improved to 6 for 6 in NBA Finals Game 1s.
James finished with 25 points but played only 33 minutes, and Miami was outscored 36-17 in the fourth quarter.
Dwyane Wade scored 19 points and Chris Bosh had 18 for the Heat, who wilted in temperatures that soared to 90 degrees in the second half.
"It was tough on both teams," Spurs coach Gregg Popovich said. "They were pretty dead. We tried to get guys in and out ... It was really hot out there."
James, who had cramping issues two years ago in the Finals, had to ask for a break in the fourth quarter and was getting treatment during a 15-4 Spurs run that turned around the game.
"It felt like a punch in the gut when you see your leader limping to bench like that. But we still had a chance after that," Heat coach Erik Spoelstra said.
James came back in and made a basket that cut it to two points with about four minutes left, but couldn't even run back on defense, promptly putting his hand up and lingering at the baseline until help arrived to take him off for good.
Danny Green followed with 3-pointer to trigger what became a 16-3 run to end the game.
"You could see the heat was getting to a lot of guys. If I played as many minutes as he did, I'd probably be cramping up, too," said Green, who scored 11 of his 13 points in the final quarter.
The crowd chanted "Beat the Heat! Beat the Heat!" late in the game, which was just what the fans themselves were trying to do.
The Spurs said an electrical failure for the power that runs the air-conditioning system had occurred. They apologized for the inconvenience but also seemed to poke fun of it, playing songs with "hot" in the lyrics over the sound system.
(China Daily 06/07/2014 page15)