Beijing - Zhao Xiangren, 14, never imagined himself in the spotlight at the NBA Yao School graduation ceremony.
A timid, 215-pound boy with a hankering for junk food, he knew nothing about basketball 15 weeks ago when his parents signed him up for the first phase of the bilingual after-school program.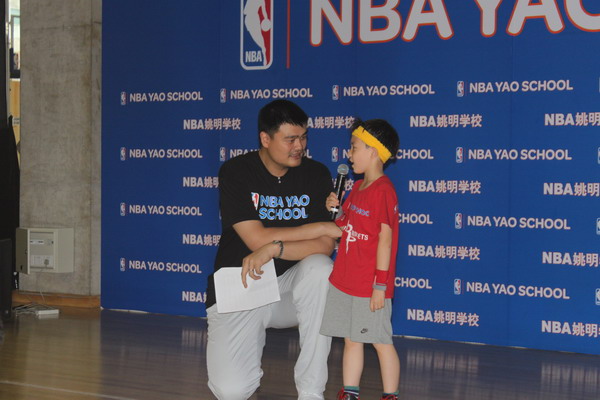 Chinese basketball legend Yao Ming talks with a student from the NBA Yao School at the graduation ceremony of the first-phase of the program at the Wukesong Hi-Park in Beijing, May 24. [Photo by Yan Weijue/chinadaily.com.cn]
But he showed up in a much slimmer form at the Wukesong Hi-Park on Saturday morning after losing a whopping 40 pounds and has become a diehard basketball fan, and more importantly, a child who finally opens up and starts making friends.
He attributed the change to the NBA Yao School which aims to cultivate both hoop and life skills of children, aged 6 to 16, on and off the court.
David Shoemaker, CEO of NBA China, hailed Zhao's transformation and eulogized him as a perfect demonstration of fitness and nutrition, two of the most essential values the program promotes.
As a co-initiator of the program, retired Chinese basketball great Yao Ming reiterated how important it is to have team spirit, perseverance, punctuality and a can-do attitude in life. He also invited three students to share anecdotes of the school.
Wu Dasheng, 10, said he and his friends helped one another during training and he learned to pass the ball more. Meng Yonghua, 14, revealed he often invited Zhao Xiangren over to his home for dinners. Bai Haotian, 8, boasted what a warrior he is as he had stayed in the game even with a hurt knee.
The first phase of the NBA Yao School, which lasts 13 weeks, will come to an end this weekend. It held classes for four groups of children on Friday evenings and weekends.
From July 14 to August 23, it will stage two summer camps at the WKS Hi-Park as well as the Beijing Balizhuang No.3 Middle School, respectively, with a tighter schedule – which is two hours of training from Monday to Saturday.
Besides basketball fundamentals and life values, the students will also play more games at the camps, which are expected to take their game to the next level.
Some NBA players will visit the summer camps and give instruction to the students, according to NBA China.
For Zheng Wei, father of the 9-year-old Zheng Yujunwei, what appeals to him most about the NBA Yao School is a sound learning environment and companionship.
"He is the only child and used to play alone. Now he is in a big family and starts to gel with his pals, which is good for him. What he gets from the program is not only better hoop skills, but also new friends and socializing skills," said Zheng.
Zheng added that his son yearned for a long-term membership in the program and he had signed him up for the summer camp.