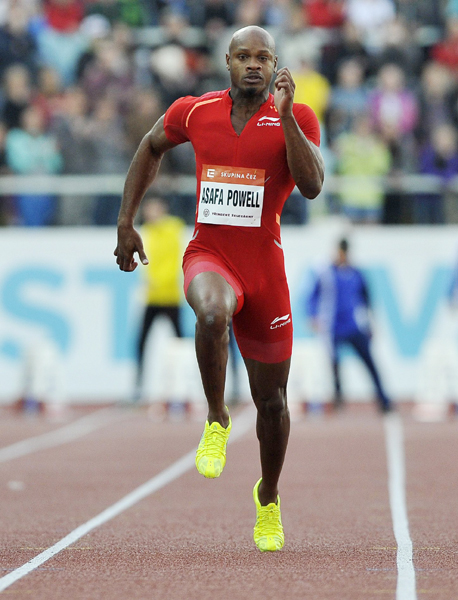 Asafa Powell competes in the 100m at the IAAF World Athletics Grand Prix meet in Ostrava, Czech Republic, last June. [Photo/Agencies] 
Former world record holder to appeal 18-month suspension for doping
Jamaican sprinter Asafa Powell, the former 100m world record holder, slammed the 18-month doping ban meted out to him on Thursday calling it "unfair" and "unjust".
"This ruling is not only unfair, it is patently unjust. Panels such as these, I understood, were assembled to allow athletes who, consciously or unconsciously come into conflict with the rules of sport, a chance at equitable redemption," Powell said in a statement posted on his website.
"Unfortunately, this was not the case."
Powell's lawyer had already vowed to appeal the decision handed down by a three-member panel of the Jamaica Anti-Doping Commission Disciplinary Panel, which unanimously ruled Powell, who blamed his positive result for a banned stimulant on a nutritional supplement, was negligent.
Panel chairman Lennox Gayle announced the suspension, which is due to end on Dec 20.
Powell and training partner Sherone Simpson tested positive for banned stimulant oxilofrine after the 100m finals at the Jamaican national championships on June 21, 2013.
"Having reviewed and listened, and bisected all evidence in this matter, and reading the submissions of both counsels, the panel arrived at a unanimous decision and it is a decision that Mr Powell was found to be negligent and that he was at fault, especially since he is an elite athlete, so the period of ineligibility will be 18 months, starting from the date of the positive test," Gayle said.
Powell's lawyer, Kwame Gordon, said the athlete would appeal.
"As an athlete, I took a legal supplement-Ephiphany D1. As it turns out, that supplement was contaminated with oxilofrine. My team commissioned two private laboratories that confirmed oxilofrine was present in the supplements, despite it not being listed as an ingredient on the bottle nor on its website," said Powell.
"I would also like to share that upon realizing that the supplement contained oxilofrine my team made contact with both the World Anti-Doping Agency and the United States Anti-Doping Agency who not only ordered samples of the supplement from the manufacturer, but also tested and confirmed our findings.
"USADA has also since issued a warning on their website for athletes to avoid the product as it contains banned substances."
Powell, who held the 100m world record between June 2005 and May 2008, said he believes the punishment is too severe for the level and nature of the offense.
"This is the first time in nearly 12 years of being in the sport and over 150 tests that I have had an adverse finding," the 31-year-old said.
"Sanctions for a stimulant and this kind of infraction usually range from public warnings to a ban of three months - six months in the most extreme cases."
"I was and am still more than prepared to accept a sanction that is in line with the offense. Instead, nine months later, what has been handed down is clearly not based on the offense nor the facts surrounding it."
JADCO lawyer Lackston Robinson had argued in February that Powell should be banned a minimum of two years, telling Gayle, Peter Prendergast and Dr Japheth Ford he was "guilty of gross negligence".
Powell blamed Canadian physical therapist Chris Xuereb for the positive test, saying he provided the nutritional supplement, Epiphany D1, that resulted in the positive test.
Robinson argued Powell's trust of Xuereb, whom he had known for less than two months, was "gross negligence" and cited discrepancies in testimony by Powell, Simpson and their manager, Paul Doyle.
A bottle of Epiphany D1 submitted for testing to a US lab by Doyle showed traces of oxilofrine while one bought by the lab from the Epiphany D1 website did not test positive for the same substance.
"The evidence presented in the case was quite lengthy and detailed, and I must say, the defense team of Mr Powell did some real hard work in presenting the type of evidence and material in its defense of its case," Gayle said. "The submission of JADCO was also very useful."