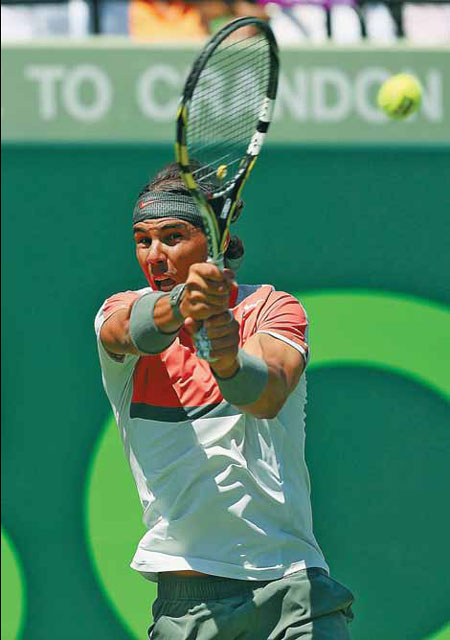 Rafael Nadal plays a backhand against Novak Djokovic during the final of the Sony Open on March 30 in Miami. Clive Brunskill / Getty Images / AFP
Spanish star looking forward to getting back on his favorite footing
Rafa Nadal is eager to get back to his favored clay after what he called a "good but not fantastic" start to the year with two titles and two runners-up spots, the world No 1 said on Wednesday.
The 27-year-old Spaniard won on the hard courts in Doha at the start of the season before a back injury wrecked his chances in the Australian Open final at the end of January.
He returned to take the title on clay in Rio de Janeiro the following month and reached the final of last week's Sony Open hard-court event in Miami, where he was beaten 6-3 6-3 by second-ranked Novak Djokovic of Serbia.
Nadal will be bidding for a ninth title at the Monte Carlo Masters later this month before more clay events at Barcelona, Madrid and Rome and then the French Open starting at the end of May, where he is also chasing a ninth trophy.
Nadal said he was "more pleased than sad" about his performance on the Miami hard courts, but admitted that Djokovic had been much the superior performer.
"In the Miami final I was not at the level of Djokovic; obviously he was quite a bit better than me," Nadal said at an event organized by new sponsor Banc Sabadell.
"But it was important for me in terms of confidence for the clay season," he added.
"As always, I am coming into the clay swing with the maximum level of anticipation and I am eager to do well and to start training on clay.
"I think I have started the season quite well. Not fantastic - but good.
"I have a favorable history on clay, but history doesn't help you much in the present.
"The only thing I can do is try to work hard and get to the clay season well prepared in tennis terms and in good physical and mental shape."
Forty-three of Nadal's 62 singles titles have come on clay, including eight at the Barcelona Open, two in Madrid on red dirt and seven in Rome.
He has 13 Grand Slam singles titles and a record 26 Masters crowns.
"It is great that I am in the top of the race arriving to the clay-court season," Nadal said. "But now that we're starting on clay I need to be 100 percent.
"I need to work hard and try to be in better shape."
Miami is one of just three ATP Tour Masters 1000 events Nadal has failed to win.
Against Djokovic he hit only two aces and won just 59 percent of his first serve points.
Nadal's success on clay has earned him the nickname 'King of Clay.' By winning last year's French Open, he became the first player to win a single Grand Slam tournament eight times.
Djokovic said on Sunday he ranks victories over Nadal as his most satisfying.
"He is definitely the biggest rival I've had in my tennis career," said Djokovic.
The two met in last year's final of the Monte Carlo Masters, which is the biggest early event of the clay swing. Djokovic won in straight sets 6-2, 7-6 (1).
After Monte-Carlo the players hit the clay over the last few weeks of April and all of May in cities such as Barcelona, Munich, Madrid and Rome.
Like Nadal, 17-time Grand Slam title winner Roger Federer is looking forward to feeling the clay under his feet.
The Swiss veteran said one of the best things about the clay swing is there is far less distance to travel from tournament to tournament in Europe.
"Even though I like the changes of continents and surfaces throughout the season, the next five or six months are going to be quite easy travel-wise for us," said the world No 4.