The defending Stanley Cup champion Chicago Blackhawks, Pittsburgh Penguins and Colorado Avalanche all qualified for the playoffs over a busy weekend as the NHL's regular season entered its final two weeks on Monday.
With the regular season ending on April 13, only seven of 16 playoff spots are spoken for with the Boston Bruins, St. Louis Blues, Anaheim Ducks and San Jose Sharks having also clinched.
Pittsburgh claimed a spot with a 2-1 win over the Columbus Blue Jackets on Friday while Colorado earned its first playoff berth since 2010 with Saturday's 3-2 win over the Sharks.
The Blackhawks also joined the party on Saturday without having to play, courtesy of the Minnesota Wild's win over the Phoenix Coyotes.
There is still much to be decided in the Eastern Conference where only the Penguins and red-hot Bruins have secured two of the eight playoff berths.
The Bruins, who top the Atlantic and are the only team confirmed as a division champion, are storming towards the playoffs after posting a club record ninth straight road win on Sunday with 4-3 victory over the Philadelphia Flyers.
Boston improved to 15-0-1 in its past 16 games.
The weekend began with the Columbus Blue Jackets, Detroit Red Wings, Washington Capitals and Toronto Maple Leafs in a dead heat for the two East wild-card spots.
Detroit defeated Toronto and Tampa Bay to move into pole position in the wild-card race with 84 points, followed by Columbus (82), Washington (81) and the Maple Leafs (80), whose playoff hopes took another hit after an eighth straight loss.
The top three teams from each of the NHL's four divisions earn automatic playoff berths while the next two highest-placed finishers in each conference, regardless of division, advance as wild cards.
In the West, the Ducks won on Monday to build on their lead atop the Pacific Division and keep pressure on the conference-leading Blues.
The Ducks defeated the Winnipeg Jets in overtime and moved to within a point of idle St. Louis in the battle for the West's top seed while at the same time opening a three-point gap over the Sharks in the Pacific Division.
The Blackhawks have clinched but look likely to limp into the postseason with two of their top players injured.
With Patrick Kane already sidelined with a lower body injury, Chicago received more bad news when captain Jonathan Toews took a crunching hit from Penguins defenseman Brooks Orpik on Sunday during the second period of a 4-1 loss to Pittsburgh.
Toews appeared to be holding his left arm and did not return to the game.
"It was a big hit," said Chicago forward Patrick Sharp.
"You could tell he was trying to hit him hard ... it's tough when you see your captain get hit like that."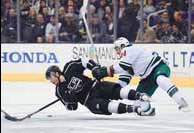 Los Angeles Kings defenseman Drew Doughty keeps the puck as he's flattened by Minnesota Wild winger Matt Cooke in the Wild's 3-2 victory on Monday in Los Angeles. Gus Ruelas / Associated Press
(China Daily 04/02/2014 page24)