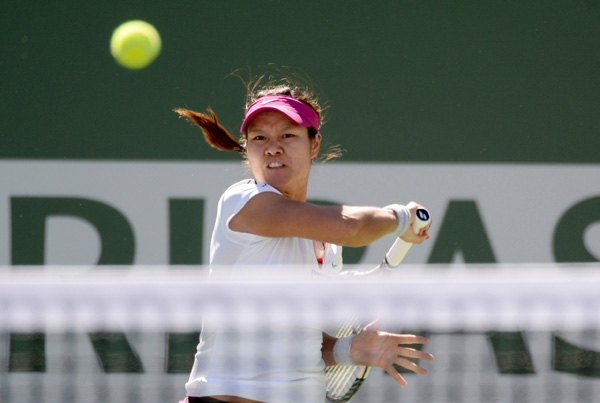 Li Na (CHN) during her match against Karolina Pliskova (CZE) during the BNP Paribas Open at the Indian Wells Tennis Garden. [Photo/Agencies]
China's Li Na is loving her tennis life, despite elevated expectations and an inevitable smattering of naysayers who still think her two Grand Slam titles are a fluke.
"Of course I always hear a lot," the world No 2 said on Monday after booking her fourth-round berth at the Indian Wells hard-court tournament with a 6-3, 6-4 victory over Czech Karolina Pliskova.
"So many people say 'Oh, she's lucky'. After I won the French, after I won in Australia, they say 'Oh, she's lucky, she cannot win anymore, blah, blah, blah.
"I say, that's OK, doesn't matter. I already have two (Grand Slams) in my pocket. Nobody can take it. I still love tennis life, I don't care what other people say."
If the critics don't get to her, Li admitted that she is having to learn how to handle herself now that she is coming into big tournaments as a favorite.
The Chinese is the top seed at Indian Wells and admitted it was a different feeling.
"I try to feel the same but it is different. Before if I came to a tournament maybe I was like No 6 or No 7 seed. Now it is high attention, everyone is focused (on me)."
So far she has thrived in the spotlight in the California desert, although she has yet to headline a night session.
Li has been the first match on stadium court in both of her matches here, and while she said she is not a morning person, she enjoys the convenience of knowing she won't have to wait for another match to finish to go on.
She joked that the early wake-up call contributed to a bevy of early double faults.
She overcame nine of them in the match en route to the victory over the 67th-ranked Pliskova.
Li closed out the match with an ace, one of her 15 winners in a match in which the Chinese star had 28 unforced errors. The reigning Australian Open champion has never been past the semifinals in six previous appearances at Indian Wells.
"At least I could win the last point and stay in the tournament," Li said.
"If you are a tennis player, you will make double faults. At least I can improve my serve even more from here."
It was something she said she would work on before her next match against Canadian Aleksandra Wozniak, a 6-1, 6-7 (3), 6-0 winner over 21st-seeded Russian Anastasia Pavlyuchenkova.