Rafael Nadal launches his Indian Wells ATP Masters title defence still feeling the sting of his loss to Stanislas Wawrinka in the Australian Open final.
"It was one of the toughest moments of my career," said the world No 1 from Spain, who was hindered by a sore back in the four-set loss to Wawrinka in January.
"It's tough to be there for an hour and a half knowing you will not win. Not winning is not the most important thing - the worst thing is knowing you will not compete."
Nadal acknowledged he didn't know if he would have been able to beat Wawrinka had he been healthy, but it clearly still rankles that he didn't get a chance to find out.
"I am a great loser. I never dwell on the losses - just a few hours then I forget and try to look to the next thing," he said. "But it's true that after that it takes a bit more time."
Nadal has already regrouped with a clay court title in Rio de Janeiro two weeks ago.
Now he's hoping for a title repeat in the southern California desert, where his triumph last year confirmed his return from a seven-month injury break.

It was the first of four hardcourt titles among the 10 trophies he won in 2013.
"It was a very emotional moment for me," Nadal said. "It gave me more confidence that I was ready to be back, ready to compete."
However, Nadal said 2014 is a new slate. Although his possible quarter-final clash with Wimbledon champion Andy Murray was the talk of the men's draw, Nadal said his most dangerous opponent is always the next one.
That will be Czech Radek Stepanek, who beat Uzbekistan's Denis Istomin 6-1, 3-6, 6-1 on Thursday to earn a shot at Nadal, who, like all 32 men's and women's seeds in this combined ATP and WTA tournament, enjoyed a first-round bye.
'Not that far away'
Murray, seeded fifth, arrived in California encouraged by his run to the semifinals in Acapulco last week.
"I feel good," said the Scot, who had back surgery in September.
"I felt the best I have this year in Acapulco. I wasn't waking up stiff and sore like I had at the other events I played.
"My back feels the best it has since the surgery. I'm not that far away from where I want to get to."
Murray will open against Czech Lukas Rosol, a 6-7 (2), 7-5, 6-4 winner over Serbian Dusan Lajovic.
In the semifinals, Nadal could get a rematch with Wawrinka or old foe Roger Federer.
Federer is on a high after a victory last week in Dubai, where he defeated Novak Djokovic in the semifinals before dispatching Tomas Berdych in the final.
"I'm just happy to see that the hard work is paying off," said the 32-year-old Swiss great, who has battled back troubles of his own.
"I've been pain-free for a long period of time now, which is the goal. It feels great."
First-round play continued on the women's side of the $12 million tournament on Thursday, with China's Zheng Jie defeating Argentina's Paula Ormaechea 3-6, 6-3, 7-6 (5) to book a second-round showdown with compatriot Li Na, the reigning Australian Open champion and top seed.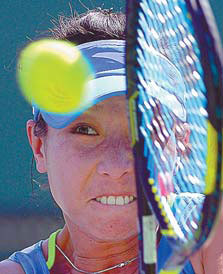 China's Zheng Jie hits a returns to Paula Ormaechea of Argentina in their first-round match at the BNP Paribas Open on Thursday in Indian Wells, California. Zheng won 3-6, 6-3, 7-6 (5). Mark J. Terrill / Associated Press