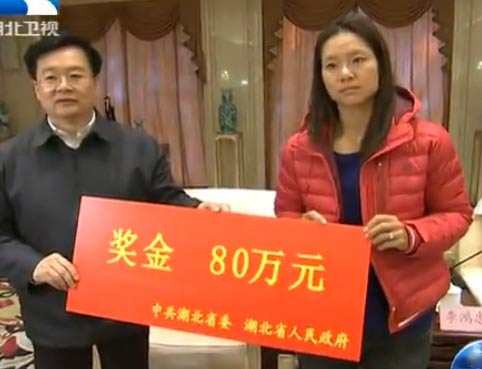 Li Na received a 800,000-yuan gift from Hubei Governor Wang Guosheng in Wuhan city, in this still image taken on Jan 27, 2014. [HBTV] 
China's tennis star Li Na added to her winnings by another 800,000 yuan ($
132,270)
 awarded by her home province during a welcome ceremony on Monday.
In the meeting in Wuhan city, capital of Hubei province, Li was welcomed by the Party chief of the province Li Hongzhong and provincial Governor Wang Guosheng.
The prize money of 2.65 million Australian dollars (14 million yuan) is one of the most talked bout Li Na's achievements after she defeated Dominika Cibulkova at the Australian Open women's singles final, claiming her second Grand Slam title.
Party chief Li Hongzhong reaffirmed Li Na's success, saying she showed the world the spirit of Hubei people, tenaciously striving to succeed.
Hubei province will always welcome Li Na, the top official of Hubei province added.