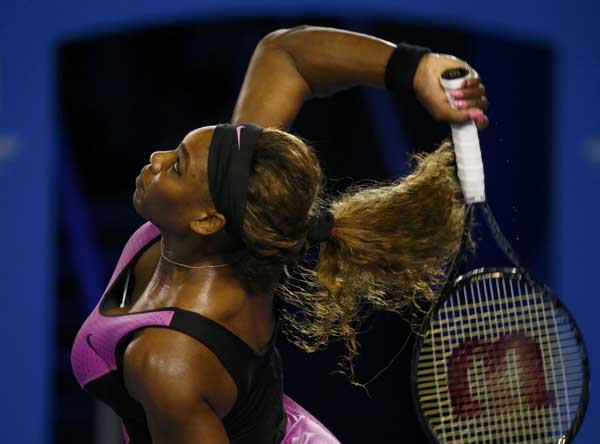 Serena Williams of the United States serves to Ashleigh Barty of Australia during their women's singles match at the Australian Open 2014 tennis tournament in Melbourne January 13, 2014. [Photo/Agencies]
MELBOURNE, Australia - Serena Williams loves a bit of drama, even if she has to add the theatrical embellishments herself.

On a stage where she's been performing since last century and against a 17-year-old local wild-card entry, the top-ranked Williams tried to put on a show to distract the partisan Australian Open crowd from the lopsided 6-2, 6-1 margin of victory.

She played a drop shot with a Musketeer-style flourish and a skip to set up triple-break point early in the second set against No. 155-ranked Ashleigh Barty on Monday. And she bunted another volley back with a dramatic, unorthodox pose three games later. But around those points, she was hitting winners so cleanly that Barty had almost no chance to compete.

Williams has carried the momentum over from a dominant 2013 season that yielded 11 titles, including her 16th and 17th Grand Slam singles championships, and a record bounty.

"She had absolutely nothing to lose. It would have been different playing her at like a French Open, Wimbledon, US Open, but she's from here, so obviously it's a different atmosphere,'' Williams said. "In Australia, they're like crazy for anyone that is local."

Williams is now 14-0 in first-round matches at the Australian Open, where she's won five titles - the first in a Williams sisters final in 2003. Venus Williams hasn't been back to another championship match at the Australian Open, and on Monday dropped a first-round match for the second time.

The seven-time major winner dominated for 1 sets before losing to No. 22-seeded Ekaterina Makarova, the Russian who had an upset win over Serena in the fourth round two years ago.

"I watched a little bit of it, Venus is doing so well," Serena said of her sibling, who has struggled with illness and injuries in recent seasons. "I'm proud of my sister. Makarova plays so well here - she's beaten me."

That's not something anyone has done lately. Serena Williams is on a 23-match winning streak, including a title defense at the season-opening event in Brisbane where she beat Maria Sharapova and Victoria Azarenka on consecutive nights.

Not all the favorites made it through on the opening day at Melbourne Park. Sixth-seeded Petra Kvitova, the 2011 Wimbledon champion, lost to in three sets to Luksika Kumkhum, a 20-year-old Thai who is playing in only her second major.

Seventh-seeded Sara Errani and No. 12 Roberta Vinci, both from Italy, also made first-round exits.

There was no such trouble for Novak Djokovic.

The second-seeded Serb improved his winning streak to 22 matches at Melbourne Park, commencing his bid for a fourth consecutive title with a 6-3, 7-6 (2), 6-1 win over Lukas Lacko of Slovakia.

It was the first competitive match Djokovic has played in front of his new coach, six-time major winner Boris Becker.

"We both hope to get the right benefits and the right results right away here in Australia," Djokovic said. "He definitely has great observations on my game, on tennis in general."

The getting-to-know-you period has been fun, and Becker did the right thing by laughing at Djokovic's jokes in the on-court interview, including the throwaway lines about his recent engagement and the fact he hadn't lost a match - 25 in all-since then.

"He has, of course, the German discipline and determination to do everything in the right way," Djokovic said. "He's balancing that with _ he's a storyteller, he's a fun guy, so we get along really well."

Of the main challengers in Djokovic's half, No. 3 David Ferrer and No. 7 Tomas Berdych advanced in straight sets, while No. 8 Stanislas Wawrinka only had to play for 65 minutes before his opponent retired with an injured left leg.

The loaded top half of the men's draw starts Tuesday, with No. 1 Rafael Nadal, 17-time Grand Slam winner Roger Federer, Wimbledon champion Andy Murray and No. 5-ranked Juan Martin del Potro all in action.

Azarenka, the two-time defending champion, also plays Tuesday. Sharapova finishes the schedule of matches on Rod Laver Arena on Day 2.