London marathon will bring people together - chief executive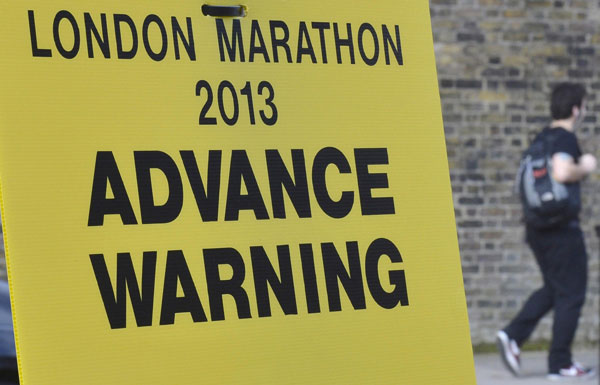 A road closure sign is seen placed along The Mall, the location for the London Marathon finish line, in central London April 16, 2013. The London Marathon will go ahead as planned in the British capital this Sunday despite the bomb attack on the Boston race which killed three people and wounded more than 100, police and officials said on Tuesday.  [Photo/Agencies]
LONDON - Additional security will be deployed for Sunday's London Marathon following the Boston bombings but chief executive Nick Bitel said he was confident the race would fulfil its aim of bringing people together.
"One of the great things about the London Marathon is that it is perceived as being this event that brings people together," Bitel told a news conference on Wednesday.
"One of the founding principles of the London Marathon was to show that at least for one day, humanity can be united."
Two bombs detonated near the finish line of the Boston Marathon on Monday, killing three people and injuring 176.
"We instigated a full security review... and as a result of that we are putting up additional resources and taking every reasonable step to ensure the race is as safe and secure a possible," Bitel said.
"We conducted this review and I won't talk about the specific nature or numbers, but what we said is there are additional measures and additional security checks, some extra police and our own security resources will be deployed.
"London is one of the safest cities in the world. We saw last year with the Olympic Games the Metropolitan Police led an incredible security effort around the Games," he added.
Former Boston Marathon champion Geoffrey Mutai expressed his shock and sorrow at the attack, saying it had deeply affected the family of runners.
"I feel very sad because I know Boston," said 2011 champion Mutai who is running in London.
"I was feeling like I was there, it was painful. Those people there were just like our family because we are all runners," added the Kenyan, wearing a black ribbon on his bright yellow tracksuit top.
None of the elite male runners at a media day for the London Marathon expressed any concerns about their safety in the event.
"In terms of security we are going to run feeling free," Kenyan defending champion Wilson Kipsang said.
There will be a 30-second silence before the elite men's race and mass start (0900 GMT) to mark the events in Boston.
Some of the world's top athletes as well as over 36,000 fun runners are expected to take part in Sunday's race around London.
Most Popular
Highlights
What's Hot