A masterful introduction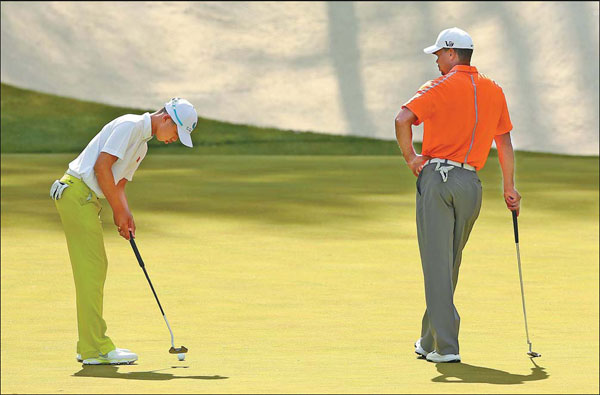 Guan Tianlang of China putts as Tiger Woods looks on during a practice round before the start of the 2013 Masters at Augusta National Golf Club on Monday in Augusta, Georgia. "If you think about it, he's not even in high school yet," Woods said. "He's in middle school and he's playing the Masters. It's a pretty remarkable story." Mike Ehrmann / Agence France-Presse
China's Guan Tianlang, 14, plays practice rounds at Augusta National with Woods, Crenshaw
It's not every day a 14-year-old amateur golfer holds a press conference at Augusta National Golf Club. Nor is it a common sight to see such a young man play the famed back nine with the game's best player, Tiger Woods.
Yet it all happened on a sunny spring Monday in Augusta, Georgia.
Guan Tianlang will become the youngest player ever to compete in the Masters this week when the first round begins on Thursday. Monday at Augusta served as a tremendous icebreaker for many of the game's great champions of the past and present as Guan played the front nine in the morning with 1984 US Masters champion Ben Crenshaw and then the back nine in the afternoon with Woods and long-hitting American Dustin Johnson.
Even Woods said he was impressed with the history Guan is making.
"If you think about it, he's not even in high school yet," Woods said after playing with Guan. "He's in middle school and he's playing the Masters. It's a pretty remarkable story."
Remarkable indeed for this tall and lean eighth grader who becomes the seventh Chinese player to tee off at the Masters.
So what type of advice did Woods pass on to the up-and-coming Guan?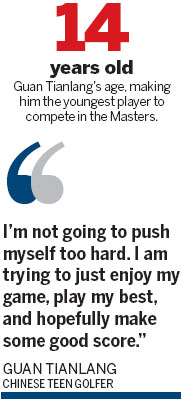 "I showed him some of the pins and the shots I play, kind of the strategy behind some of the stuff," Woods said.
Tiger has won this event four times, but not since 2005. He comes in as the undisputed favorite.
Amid the beautiful setting of iconic Augusta National, what is Guan hoping to take away from the week?
"I'm not going to push myself too hard," Guan said during his media conference. "I am trying to just enjoy my game, play my best, and hopefully make some good scores."
Guan's biggest weakness coming into Augusta seems to be his lack of length off the tee. He is said to drive it about 250 yards, on average. On Monday, he was routinely 50 yards behind Woods off the tee with his drives.
"I think it's going to put a little pressure on me," Guan said regarding his lack of distance.
But pressure is nothing new to Guan, who qualified for the Masters by winning the Asia-Pacific Amateur Championship in November at Amata Spring Country Club in Thailand.
Guan and his father, Guan Hanwen, have been at Augusta preparing for the past three weeks, and he says he's played the course at least six times.
The routine has been to arrive at the course and practice from 10 a.m. to 6:30 p.m., with lunch in between.
Another Masters rookie, Belgian Nicolas Colsaerts, also attained success early in his career. He earned his European Tour card at the age of 18.
Now 31, Colsaerts is stunned by Guan's accomplishment.
"To play Augusta at 14! I think everybody is almost in shock," Colsaerts said. "I hope he is going to enjoy this week as much as I am."
Enjoying the week was a common theme on Monday at Augusta for Guan.
He said it often in his media conference, mentioning some sage advice from Crenshaw.
Johnson offered similar advice to Guan.
"I told him to have fun and enjoy the moment," Johnson said. "I'm definitely impressed. It's such an accomplishment (for him) to be here at 14."
American Matt Kuchar knows a bit about amateur success. He won the 1997 US Amateur at 19 and can lend some perspective to what Guan has accomplished.
"At 14, you may be too young to know what you're in for," Kuchar said. "That's amazing (that he qualified). I'm excited and wish him well and congratulate him on qualifying."
Next up for Guan is a practice round with '77 and '81 Masters champ Tom Watson on Tuesday, then he will compete in the annual par-3 contest with '96 Masters champion Nick Faldo.
Perhaps osmosis will set in for the young fellow as he plays one of golf's greatest venues with some of its great champions.
(China Daily 04/10/2013 page22)
Most Popular
Highlights
What's Hot