'Drive, Chip, Putt' youth event to launch
Faced with declining interest in golf from American youth, three major US golf organizations announced on Monday a new skills contest for children aged 7-15 to try to inspire more young golfers.
The Drive, Chip and Putt Championship will launch later this year with 88 players divided into four age groups reaching the final at Augusta National on April 6, 2014 - the Sunday a week before the final round of the 78th Masters.
"We certainly did enough research to know that we had to do something," said Augusta National Golf Club Chairman Billy Payne.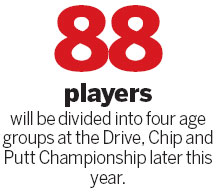 The new event will be open to about 17,600 children at 110 local qualifying events across the United States, with the top two from each venue advancing to 20 regional sites next August to determine the finalists.
In the nationally-televised finals, driving and chipping will be done at the same practice facility used by Masters players and the putting final to decide a winner will be staged on the actual 18th green at Augusta National.
"We thought about what would be thrilling and exciting and we couldn't help but think, historically, how many of the great golfers have visualized making the winning putt on the 18th green to secure their Masters title," Payne said.
"So we thought, if we could duplicate that, share it with these kids, it would be both thrilling for them and amazing to watch."
Pin placements to decide the winner figure to emulate some famous 18th-hole winning putts from Masters history.
"Our next generation of players are really going to have an extraordinary opportunity to realize the dream of countless golfers worldwide," said PGA of America President Ted Bishop.
Entrants and spectators for the final at Augusta National will be determined by lottery.
(China Daily 04/10/2013 page22)
Most Popular
Highlights
What's Hot