Don't expect to see Liu back on track in 2013
China's star hurdler, Liu Xiang, is likely to be out of action for the entire 2013 track and field season, and organizers of this year's Shanghai Diamond League meet are worried.
Sun Haiping, the long-time coach of 30-year-old Liu, said on Tuesday the sprinter won't be back in China until he has fully recovered from the right Achilles tendon injury he sustained at the 2012 London Olympics. He has been receiving treatment in the United States.
His recovery will be a slow process, Sun said on the sidelines of a media conference on Tuesday. "We expect a full recovery, but he cannot take part in any training now, and therefore he will probably miss all meets this year."
Hopefully, he can return to the track next year, the coach said.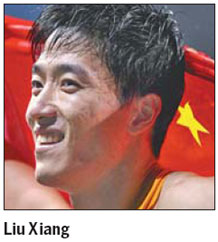 The absence of Liu, almost a fixture at the Shanghai meet over the past few years, could adversely affect this year's event.
Gu Shuhang, general manager of the league's operating company, said Liu's non-appearance would have a negative impact on the event's attractiveness and hurt ticket sales and the wooing of sponsors.
"We understand the audience expects him, and the meet would be very appealing to fans if he participated in it," she said.
But Liu, a Shanghai native, is not the event's only draw, though he has hogged the limelight at past meets, she said.
"His absence is not a fresh topic," said Gu, adding the public and media will have to get used to the fact that Liu will retire one day.
The Shanghai Diamond League event, which will take place in the Shanghai Stadium on May 18, has so far attracted four Olympic champions and three world record holders among an array of international track and field stars.
Sprint hurdler Aries Merritt tops a list that includes world 100m champion and Olympic silver medalist Yohan Blake, world and Olympic 400m champion Kirani James, world junior and Olympic javelin champion Keshorn Walcott, and pole vault legend Yelena Isinbayeva.
Merritt will return to the meet in 2013 hoping to make amends after finishing fourth a year ago in a 110m hurdles contest that saw Liu claim victory.
Merritt will face Xie Wenjun, China's latest hurdling hope, in Shanghai.
Tipped by some as the new Liu, Xie lowered his personal best in the 110m hurdles to 13.34 sec in the Olympic semifinals in August and made a breakthrough earlier this year when he finished third over the 60m hurdles at the British Athletics Grand Prix in Birmingham in 7.60.
The 2013 Shanghai Diamond League meeting will feature 16 events, nine for men (200m, 400m, 1,500m, 110m hurdles, 3,000m steeplechase, high jump, long jump, discus and javelin) and seven for women (100m, 800m, 5,000m, 400m hurdles, pole vault, triple jump and shot put).
wangzhenghua@chinadaily.com.cn
(China Daily 04/10/2013 page24)
Most Popular
Highlights
What's Hot