Clippers beat Lakers 109-95 for first season series sweep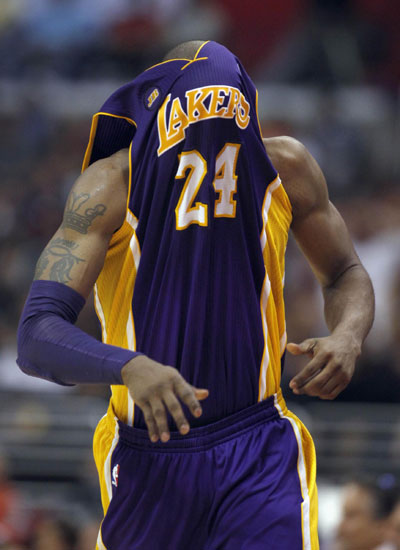 Los Angeles Lakers guard Kobe Bryant (24) hides his head with his jersey after fouling Los Angeles Clippers guard Chris Paul (not pictured) during the second half of their NBA basketball game in Los Angeles, California April 7, 2013. Clippers won the game 109-95. [Photo/Agencies]
LOS ANGELES - The Clippers made their first season series sweep of the Lakers since the team moved to Los Angeles in 1984 with a 109-95 victory Sunday at Staples Center.
With the win, the Clippers clinched their first Pacific Division title in franchise history against a team that has long overshadowed them.
In order to get the Lakers a playoff ticket, Kobe Bryant tried so hard to survive in this fight. He played 47 minutes 20 seconds and finished with 25 points, 10 assists and seven rebounds, but could not avoid Lakers' disappointing loss to Clippers.
After this game, the Lakers (40-37) fell off to ninth place on Western Conference standings, while the Jazz (40-37) got the eighth place and held the tiebreaker.
The Clippers dominated the boards, 50-36, including a 16-10 advantage on the offensive glass which gave them a lot of second chances. Chris Paul and Blake Griffin had 24 points apiece, Paul also contributed 12 assists while Griffin added 12 rebounds. Jamal Crawford scored 20 points off the bench.
The Lakers' Dwight Howard led donated 25 points as Kobe, but only four rebounds. Paul Gasol ended up with 13 rebounds, 12 points and eight assists.
Most Popular
Highlights
What's Hot