Gutsy Djokovic guides Serbia into Davis Cup semis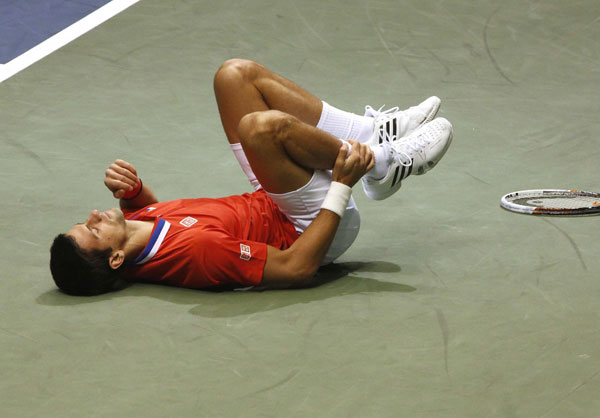 Serbia's Novak Djokovic lays on the court with an injury to his right ankle during his Davis Cup quarter-final tennis match against Sam Querrey of the U.S., in Boise, Idaho, April 7, 2013. [Photo/Agencies] 
Novak Djokovic overcame a painful ankle injury to beat Sam Querrey on Sunday and provide Serbia with an unassailable lead over the United States in their Davis Cup quarter-final in Idaho.
Djokovic reeled off the last nine games in a row to win the match 7-5 6-7 6-1 6-0, sealing a 3-1 win for his team and a place in the semi-finals against Canada.
Canada made the World Group semi-finals for the first time when Milos Raonic beat Andreas Seppi 6-4 6-4 3-6 7-5 in the first reverse singles in Vancouver, securing a 3-1 lead.
Serbia will host the Canadians in the semi-finals in September while Czech Republic will host Argentina in the other semi-final after both countries won their ties on Sunday.
Czech Republic, who won the Davis Cup last season, safely made it through to the last four when Lukas Rosol beat Evgeny Korolev 7-6 6-7 7-6 6-2 to clinch a 3-1 win over Kazakhstan.
"I'm very proud of Lukas because it was one of the toughest matches for him as he does not have too many chances to play matches like this. He was the leader of this team this week," Czech captain Jaroslav Navratil said.
Argentina earned their place in the last four when they won a nail biting tie with France in Buenos Aires that went the distance.
Argentina led 2-1 overnight but France levelled the scores when world number eight Jo-Wilfried Tsonga defeated Juan Monaco 6-3 6-3 6-0.
Carlos Berlocq then upset world number 13 Gilles Simon 6-4 5-7 6-4 6-4 in the decisive fifth rubber.
"It's definitely the best result of my career," said a jubilant Berlocq.
Djokovic fell and twisted his right ankle in the third game of the opening set against Querrey. The world number one required treatment to the injury and struggled to move freely.
He said he probably would have stopped playing if he was playing a regular tournament but carried on because it was a team event, eventually securing the victory.
"If I had not been playing for Serbia with my team beside me, I am not sure I would have carried on," he said in a courtside interview.
"It couldn't have happened at a worse moment, right at the start of the match. I felt pain with every motion in the first 30 minutes so I just had to go for precision with my shots.
"These are rare occasion when you get to play for your country with 15 people on your team cheering you on so it's always a big responsibility." 
Most Popular
Highlights
What's Hot