CFA's coaching conundrum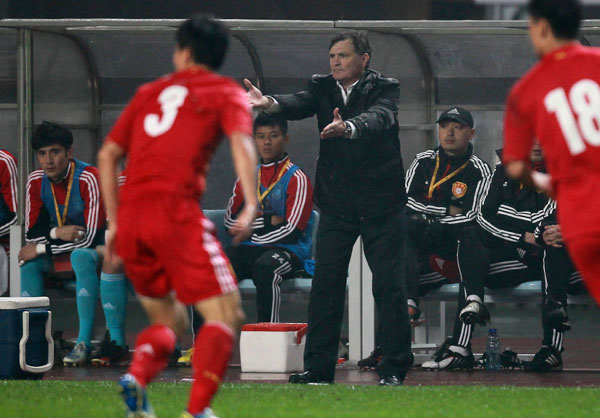 China's coach, Jose Antonio Camacho, in action during the match against Iraq in Changsha on Friday. [Photo by Cui Meng / China Daily]
Although rumors have been rife that China's embattled soccer coach, Jose Antonio Camacho, will be fired due to the team's sluggish record during his tenure, some reports claim the CFA cannot afford to void his contract prematurely.
According to the contract, the Spanish coach will be at the helm until the end of next year, with an annual income of 4.3 million euros ($5.55 million), and there is no clause in that contract stating he must lead the team to the Asian Cup finals.
That means if the CFA wanted to replace him after Friday's second qualifying match, it would have had to pay out the remaining money, which is close to 8 million euros.
Camacho also refused to talk about his future.
"For me, I will never give up and will try to lead the team to the finals. I cannot decide the other things; that's up to the CFA," he said.
The CFA's major sponsor, Wanda Group, invited the coach to take over the national job in 2011 and covered his payment, but it's not known if it is willing to help the association in such a manner again.
Former Chinese international striker Hao Haidong asked fans not to blame the national team's recent lackluster performances solely on the coach, saying a lack of good players was a key reason for the team's struggles.
"It's of no use blaming a player or a coach. It would make no big difference to hire another big-name coach," said Hao, who played in the nation's only World Cup appearances in 2002. "The situation has been getting worse over the past decade as fewer children are picking up soccer as a potential career."
Most Popular
Highlights
What's Hot